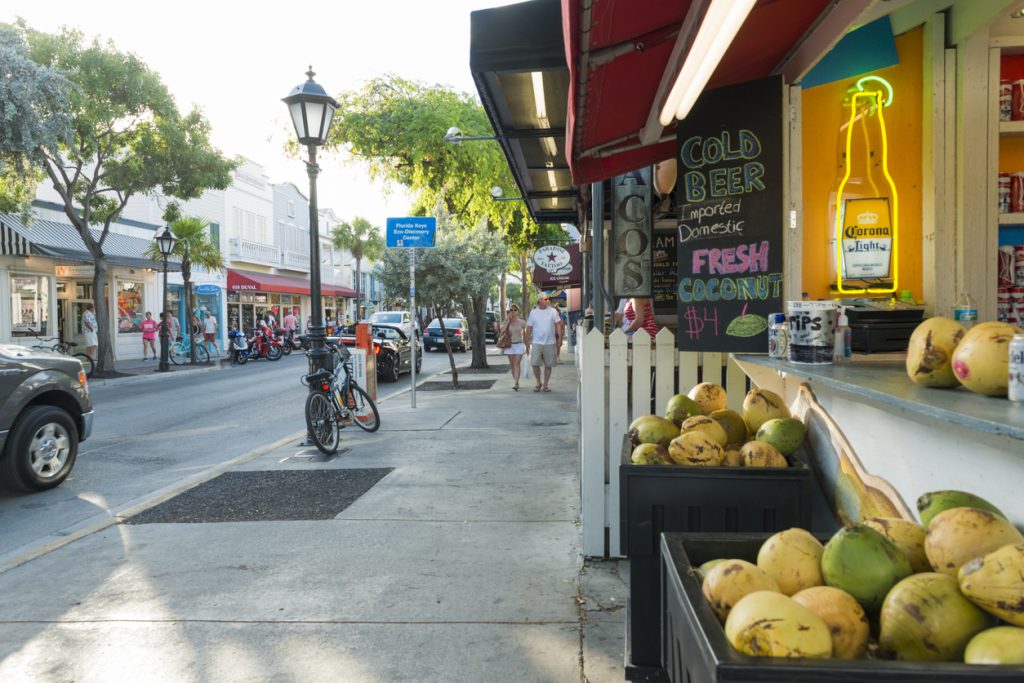 Changes are Afoot in Key West
May 15, 2022
COVID Inspires a New Take on an Old Favorite
This spring is bringing rumors of change to Key West, with plans in the works to reimagine Duval Street. Duval is the defacto main street of our island city, and the last few blocks where Lower Duval ends at the Gulf of Mexico waterfront have long been the beating heart of Old Town Key West. This northern end of the 1.25-mile-long street is home to iconic spots like Sloppy Joe's, Capt. Tony's Saloon, and Rick's Bar as well as being ground zero for major events including the Halloween season Fantasy Fest that can bring more than 50,000 costumed partiers into Old Town.
Things seemed to get underway in 2019 when a February 15–April 27 pilot program turned the 500–700 blocks, a part of the street referred to as Central Duval, into a pedestrian promenade from 5 p.m. to midnight on Fridays and Saturdays. Restaurants and shops were allowed to move tables and chairs onto the sidewalk and street up to 17 feet from their storefronts. The blocks were closed to vehicular traffic other than a central lane left open for emergency vehicles.
The move proved to be prescient when COVID struck in 2020. Pandemic closures, capacity restrictions, and the demands of social distancing turned the creation of outside dining spaces into a matter of survival for many Duval Street food and beverage spots. City officials permitted restaurants to move tables out onto sidewalks as long as space for pedestrian traffic was left open. The al fresco dining arrangement proved to be very popular with patrons and business owners alike, and the city moved to make the change permanent. Now visitors express surprise that such sidewalk dining was not always a feature of the Duval Street experience.
Sprucing Up Duval Street
The Key West Sidewalk Café program is just one part of a series of make-over projects that are bringing a fresh face and fun new spaces to the Island City. In March 2022, city officials issued a Request for Proposals to carry out a redesign and revitalization of Duval Street. The effort is moving forward under the supervision of engineering, planning, and construction firm KCI Technologies. KCI was chosen by the city due to the firm's focus on incorporating stakeholder and public input in an upgrade process that is slated to include:
Identifying opportunities for public art and transformational elements along the street.
Improving safety for commuters, including foot traffic and vehicles, while maintaining mobility.
Addressing and improving infrastructure to reduce business and taxpayer costs.
Initial suggestions have included wider sidewalks, additional landscaping, and the possible elimination of curbs coupled with the use of removable, aesthetically-pleasing barricades that would allow easy conversion of sections of the street to pedestrian-only traffic during special events.
Some prominent downtown business owners and Key West traditionalists have objected to any major changes, with the cost to tax payers being an important concern. That said, the fact of the matter is that Duval Street got its last face lift more than 40 years ago in 1976 as part of the Downtown '76 project. Local developers Ed Swift and Chris Belland were buying and renovating weather-beaten buildings along Duval, and the project extended into sidewalk widening, landscaping, and general beautification with part of the effort supported by federal grants as a component of the nation's bicentennial programs.
Change: Not Always Welcome but Always Necessary
In a January 2020 interview for the Key West Weekly, Mayor Teri Johnston noted that "We say this is the most iconic street we've got, and yet we've put no money into it. We need to make Duval Street much more welcoming and inviting and we gave the companies a blank slate to work with."
The sun-faded buildings are authentic Key West, but it is past time to freshen things up a bit along the famous party street. Some improvements are already underway. Badly-needed street repaving and ADA curb access improvements were carried out beginning in March of 2020 when Duval Street was emptied by pandemic closures.
Back in the summer of 2019, the 1400 block of Upper Duval from the intersection of Duval and South Streets to the ocean was transformed into a pedestrian pocket park. Encompassing the space between the Southernmost House Hotel and Southernmost Beach Resort, the pocket park creates a pleasant, well-maintained public space in a formerly neglected dead-end and relieves traffic problems that have plagued the area.
The new park was recently named the Ramos-Lopez Pedestrian Park and Sculpture Garden in honor of the pioneering Key West merchant families who lived on either side of the street and owned the Southernmost Mansion for many years beginning in the 1930's.
A New Look for Mallory Square?
In March 2022, Key West city commissioners evaluated firms that have expressed interest in a redesign of Mallory Square, Key West's legendary gathering spot for the daily festivities of the Sunset Celebration. The goal is to reinvent a space that currently comes alive for just 2 hours daily and make it into an attractive public gathering space that will draw people throughout the day into the evening.
With a plan in the works for many months, the city received proposals from eight top architectural and design firms. City officials went with Sasaki Group, a prestigious international planning and urban design collective.
Sasaki proposes to create "a flexible, vibrant public hub for arts, events, and play" that would "embrace Key West's strong cultural connections to food and music while leveraging the historic buildings on site to tell the story of Key West's past and bring people together." The firm has put forward an exciting vision that includes a continuous open space system along the entire northern and western edge of the island from the Historic Seaport to Truman Waterfront Park and Fort Zachary Taylor State Park.
Home Island Improvements
Beyond downtown, and quite near the Bascom Grooms Real Estate headquarters, Bayview Park on the south side of Truman Avenue between Jose Marti Drive and Georgia Street is up for a redesign. A proposed master plan calls for a new tennis pro building, new restrooms, children's play area, and dog park area. The Key West Botanical Garden & Tropical Forest on College Road, a little-known 15-acre slice of conserved nature established in 1936, is getting a 99-year lease renewal. Out on Stock Island, affordable housing inventories are being boosted by the removal of old trailer parks and the construction of new apartment complexes. The 8-building, 280-unit Wrecker's Cay apartment complex is nearly complete, and planning is underway for another 240-unit development.
There are certainly some interesting changes coming to Key West, and it appears that America's only Caribbean Paradise will be getting some great new public spaces and a fresh new vibe along its legendary main street. If everything goes as planned, we should see significant quality of life improvements for local residents and more attractive experiences for island visitors.
Here at Bascom Grooms Real Estate, we welcome these improvements and look back on many other changes over the years gone by as we celebrate 23 years of serving the needs of Key West and Lower Keys homeowners new and old. We invite you to come down for a visit and be part of the ongoing story of our island. Get in touch with us right here or drop by for a chat at 1716 N Roosevelt Blvd when you are in town.