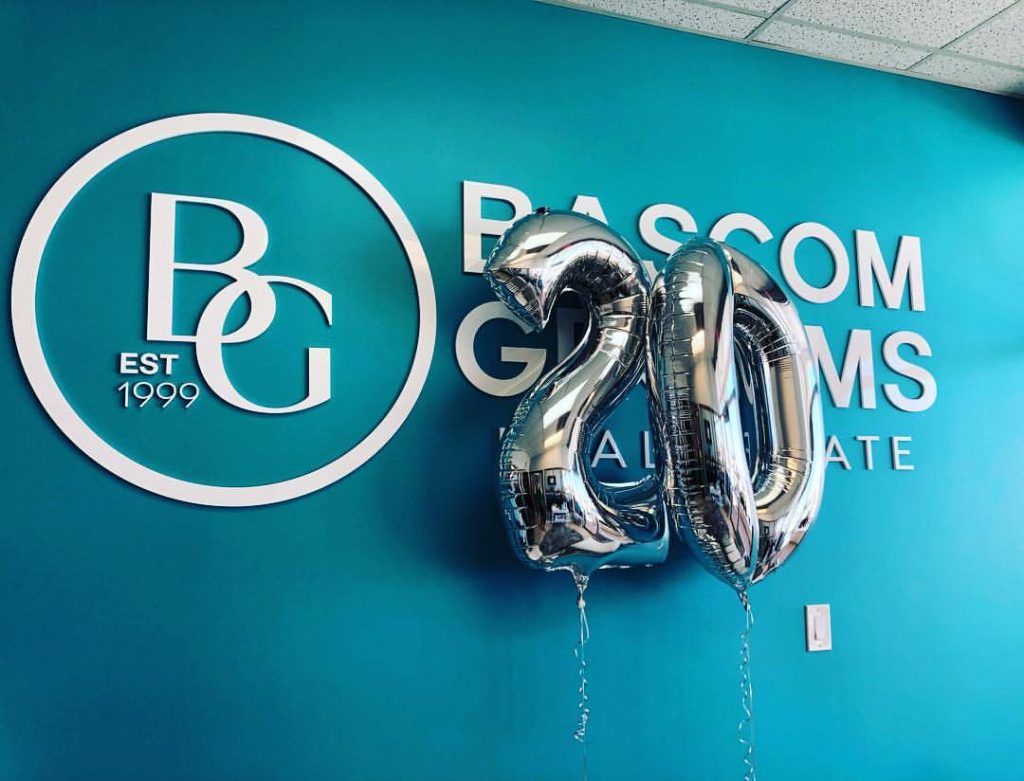 Bascom Grooms Real Estate Celebrates 20 Years of Key West Real Estate Excellence
April 15, 2019
Bascom Grooms Real Estate: 20 Years in the Key West Community
April 12th 2019 saw the Bascom Grooms Real Estate team gather along with guests and well-wishers from the Key West community to celebrate the firm's 20th year of offering comprehensive Key West and Lower Keys real estate services. The festivities took place at the agency's Roosevelt Blvd. office overlooking the historic City Marina at Garrison Bight.

Company founder Bascom Grooms IV along with his team members and guests mingled and reminisced throughout the afternoon. Sweets and treats were provided by Catered Affairs and Key West Cakes, the maker of a batch of delicious specialty Bascom Grooms logo cupcakes. DJ Kirby Trahan from MY FM 97.7 was broadcasting live and featured a fun interview with Bascom.

Most members of the Bascom Grooms Real Estate team were able to attend the anniversary event. Bascom's wife, Beth Grooms, his mother Marge, and stepfather Gordon Smith, all long-time realtors with the firm, were present. Manager Meghan Davis, who started with Bascom in 1999 and realtors Paige Bethel, Ed Salazar, Ron Bailey, Teo Masters, and Haydee Stewart also joined the party.

Among many other local well-wishers, Bascom received congratulations from Virginia A. Panico, Executive Vice President of the Key West Chamber of Commerce. Writing about Bascom's 20 years of success in business, Ms. Panico noted "You have achieved tremendous growth and have built eminent goodwill in the community. You have always provided excellent service to your clients."
Bascom Grooms IV: Deep Key West Roots
Detailed local knowledge is critical in the real estate business and Bascom Grooms Real Estate's founder and president can claim a solid portion of that. Bascom Grooms IV is a 4th-generation Key West native, or "Conch", and the Grooms name has been prominent in Key West since Bascom's great-grandfather, Bascom Grooms Sr. moved to Key West in 1908 to work for the Key West Electric Company.

When Bascom returned to Key West from Florida State University and bought his first home in 1994, going through that process sparked a lively interest in the real estate business. "I enjoyed the process; I enjoyed working with the realtor, and it made me want to take that on as a career and 21 years later, here I am."

Bascom obtained his real estate license and began his career in 1997 then moved on to a Broker's qualification and opened Bascom Grooms Real Estate in 1999. Launched from humble beginnings in a small office above his parent's store, The Bike Shop on Truman Avenue, Bascom's firm flourished.
Bascom Grooms Real Estate: Making a Mark in Key West Real Estate
Soon, Bascom Grooms Real Estate moved to larger quarters, became a top producing Key West brokerage, and started earning local and regional accolades. Bascom has been featured on HGTV's House Hunters program, he was voted number 1 Key West Realtor in the Key West Weekly People's Choice Awards for 5 consecutive years 2014 – 2018, and Bascom Grooms Real Estate won the 2016 People's Choice Award for Best Real Estate Office in Key West.

After years of achieving near-constant growth and consistently maintaining a high ranking among Florida Key's real estate brokerages, the agency still holds on to its roots as a small-town independent real estate brokerage. The team at Bascom Grooms Real Estate prides itself on being part of a small firm dedicated to providing boutique services to meet the individual interests and needs of each client. This personal touch and a solid reputation among locals combine to contribute to the firm's successful 20-year run as one of Key West's leading businesses.

New buyers looking for a home in the beautiful Florida Keys; Key West residents ready to move up or downsize; sellers who want the best price for their property and a fast, smooth sales transaction: You need the best in local knowledge and Key West real estate expertise on your side. It's hard to argue with 20 years of success, so call Bascom Grooms Real Estate today and let's talk about your needs.
Bascom Grooms Real Estate: (305) 748-2057 / Info@bascomgrooms.com