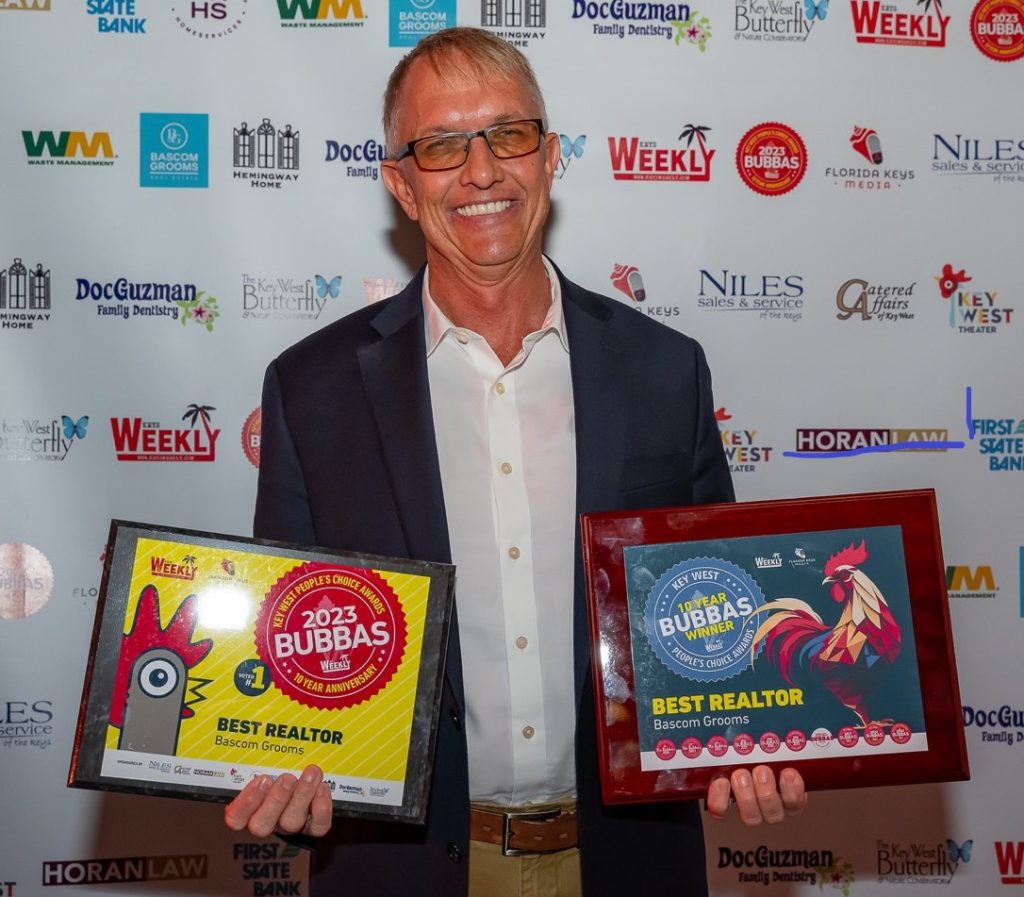 A Perfect 10
August 15, 2023
Running a streak hotter than Key West summer, Bascom took a 10th People's Choice Awards win for Best Realtor. Thanks go to our great supporters whose votes put Bascom in the winner's circle once again and also earned the Bascom Grooms Real Estate Team a nomination for Best Real Estate Office.
At the Risk of Sounding Repetitive…
Put on by the Keys Weekly newspapers and affectionately known as The Bubbas, The Key West People's Choice Awards concluded its 10th annual running with a typically boisterous awards ceremony held at the Key West Theater the evening of July 22. Amidst the roasts, toasts, jokes, and fun pokes, Bascom Grooms stood out with the reception of a 10th award for Best Realtor and the Legacy Award for his ten-year domination of the category.
Bascom owes his success to community support and recognition of the hard work he has put in since 1999 when he first embarked on the quest to become your go-to southernmost hometown real estate broker. With the backing of awesome clients, great friends, and an excellent and growing team along with consistent dedication to the provision of personalized real estate services on both buy- and sell-sides of the market, fourth generation Conch Bascom Grooms has been able to secure a unique place in the hearts of Key Westers.
This year, the always fun and interesting Bubbas competition drew more than 500,000 votes in the nomination and final voting phases as locals, visitors, and island dreamers world-wide picked their favorites from 100 categories covering everything Key West from margaritas to school teachers. Continuing tradition, 100% of proceeds from sold-out awards gala tickets went to support a local charity—this year, Samuel's House, provider of shelter and support to homeless and struggling women and families. The 10th running of the Bubbas brings the event fund-raising total to more than a quarter-million dollars, all going to hometown causes.
Hot Town, Southernmost City
Air and water temps hovering in the mid-80s mark the months of July and August on the island, and you would think folks must be seeking shade and moving no further than the nearest happy hour. But that's not the case in Key West where the seasonal schedule of cool happenings and special attractions has been rushing onward apace.
By land and by sea, on Duval and in the watering holes, the good times roll on through summer. Although there are plenty of guests on the island at this time of year, it is always a local-friendly season as well. Keys-focused specialty events, nice slow-season food and drink specials, long cocktail hours, spectacular summer sunsets, and generally chill vibes make the livin' easy here.
The Pappas Return
A legendary Key West classic was back in town as nearly 140 white-bearded men "of a certain age" gathered July 18–23 for Hemingway Days 2023. Celebrating the legendary American author on the eve of his 124th birthday anniversary (July 21, 1899), Hemingway look-alikes—the Pappas—gathered once again for a few days of festivity, fishing, friendly competition, lively literary explorations, and of course refreshing libations at Sloppy Joe's, one of Hemingway's favorite hangouts during his 1931–1939 Key West sojourn.
The grand finale took place Saturday July 22 at 6:30 pm when a panel of former winners presided over Sloppy Joe's 42nd Annual Hemingway® Look-Alike Contest and selected 68-year-old Gerrit Marshall, a retired television broadcast engineer from Madison, Wisconsin as the 2023 winner. Finally gaining success on his 11th run at the title, Marshall actually received the honor on his own July 22 birthday. By the time the bell tolled, Hemingway Look-Alike Society president David Douglas estimated $125,000 had been added to the Society's scholarship fund for college-bound Key West high school students.
Rockin' the Lobster
The Papas had barely left town when the next summer special event was on. The annual Florida Spiny Lobster sport season, known to locals as lobster mini-season for its brief 2-day run, took place July 26–27. Mini-season is set to up allow recreational divers a shot at the delicious crustaceans before the beginning of the regular lobster season brings the professional fishermen into the game; this year from 12:01 a.m. August 6 to midnight March 31, 2024.
As we have previously documented in these pages, lobster mini-season always brings a burst of activity to the Keys and Key West. Thousands come out for a little fun on and in the water, with the possibility of a succulent reward waiting for skilled and lucky undersea hunters. And even when the prey is elusive, those in the know will hang around a few extra days to partake in the Key West Lobsterfest.
Running its 26th annual edition August 8–13, the Fest featured boils, brunches, pub crawls, and pool parties that served to whet lobster-lovers' appetites for the main event on Saturday the 12th. That's when a lobster-themed street fair filled upper Duval Street with the enticing aromas of grilling and steaming lobster, multitudes of specialty lobster preparations by local chefs, cold drinks, and cool tunes. As always, large crowds were on hand to sample fresh catch brought in by Florida Keys fishermen and join in a perennially popular community event that sends proceeds to benefit a college scholarship fund supporting Key West High School students.
Faces of Paradise
Perhaps the most interesting and unique event this summer is the return of island artist and photographer Thomas Filipkowski—better known as Tom Flip—with his quinquennial Heads Up Key West portrait project. Launched in 2013 as an interactive art project, Heads Up checks in every 5 years to invite Key West residents to sit for an impromptu black and white portrait and share a bit of their island experience.
Moving through a series of scheduled shoot sessions at various venues, the work captures as-is glimpses of hundreds of islanders who take time from their days to wait in line and sit for Tom, a professionally-trained photographer from The School of Visual Arts in New York. For this third installment of the Heads Up series, people have been lining up down the block between 8–10pm on the scheduled Sundays. The final product is a truly engaging mosaic piece that captures the diversity and personality of our special island home.
Sessions have been underway since June 18th, with 5 sittings completed and 3 opportunities remaining if you would like to take part. Look for the line on August 27 at Dive Bar Shirt Club, September 10 at Stone Soup Gallery, or September 24 at Comedy Key West. Again, that is 8–10 pm Sunday evenings if you want to be immortalized as one of the faces of Key West. And be sure to check out Tom's podcast series for stimulating, scintillating talk-story sessions with some of our most eclectic island citizens.
The People's Choice at Your Service
Bascom Grooms has kept his finger on the pulse of the Key West real estate market and his heart dedicated to providing the kind of personalized customer experiences that make for the best in Key West and Lower Keys Real Estate services. Whatever your needs when it comes to Key West real estate, the team at Bascom Grooms Real Estate has the know-how, the network, and the nuanced approach to make any transaction go perfectly and pleasantly.
Browse our site, peruse a few posts here at the blog, and get in touch to learn more about what's happening in America's Caribbean Paradise. Whether you are a buyer, seller, investor, or simply a market explorer, Bascom Grooms Real Estate is your Key West real estate connection.
Bascom Grooms Real Estate—1110 Truman Avenue, Key West Florida—(305) 295-7511—info@bascomgrooms.com