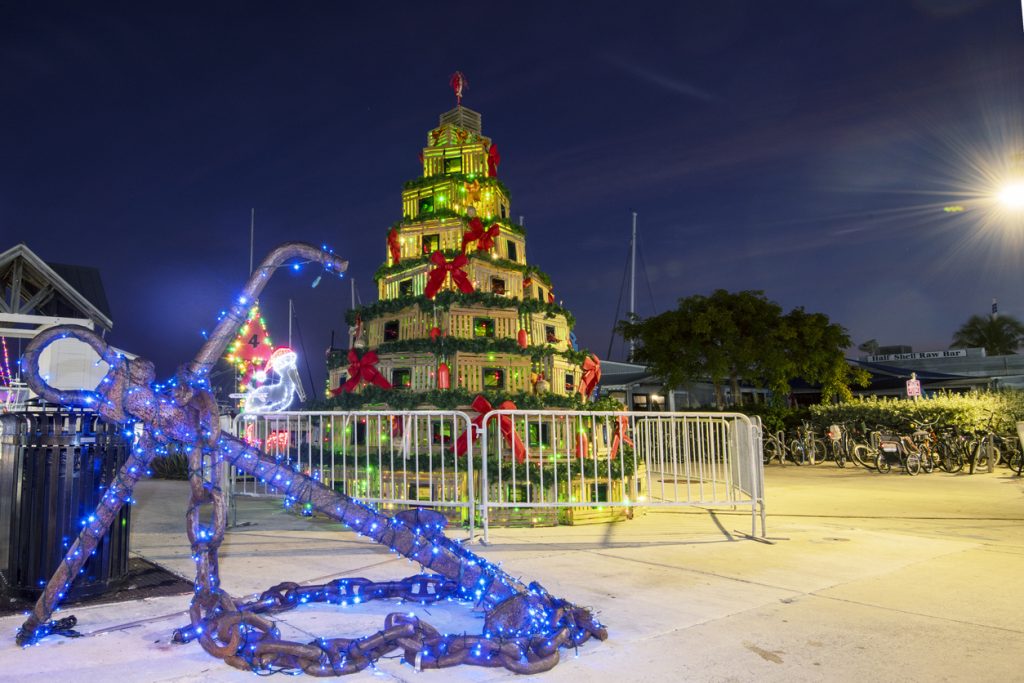 Wrapping Up 2022
December 15, 2022
It's Christmastime in Key West!
Another year almost gone by and December 2022, along with all the usual hectic, hearty, holiday happenings, is in full swing here in Key West. As is customary, the whole town is lit up and lively for the season of Christmas and priming up for partying on New Year's Eve. Things kicked off the traditional way on November 28 with the lighting of the official City of Key West Christmas Tree in Bayview Park right down in our Truman Avenue neighborhood just west of the historic Garrison Bight waterfront.
The tree lighting and a follow-up Dec 1st formal with the Sunset Social Drinking Club at the Audubon House on Whitehead Street were both aimed at raising funds for the Florida Keys SPCA. Helping fellow beings young and old, two-legged, four-legged or even flippered and finned, is a theme running through many holiday activities and events here in Key West. It captures an island spirit of generosity and willingness to lend a hand, an ideal deeply rooted in this small, geographically isolated community where courage, sharing, and a can-do attitude have seen Key Westers safely through many challenges over the past 200 years.
Greeting the Season Island Style
Some people might argue that the real holiday kickoff was the Key West Hometown Holiday Parade on Saturday December 3rd. The floats and marching groups along with plenty of children, assorted elves, plus hooved, furry, and feathered friends made their way from Bayview Park down Truman Avenue then headed up Duval to Eaton Street in the heart of Old Town. Crowds of cheering spectators lined the entire route to welcome in the holidays with a classic homegrown small-town parade.
Others might claim the Key West holiday season begins with the lighted bike parade on December 2nd to benefit Wesley House Family Services, or with a round of holiday spirits at the Schooner Wharf Bar tree trimming party and Toys for Tots toy drive on the evening of the 4th, or at the Lighting of the City Menorah in Bayview Park on the 18th. The classic 31-year-old Key West Lighted Boat Parade on Saturday the 10th would be a good starting point, or even way back on November 23rd when thousands of brightly colored lights blazed to life in the fantastic Harbor Walk of Lights with its awesome Key West Lobster Trap Tree, the 20-foot-tall Fishing Buoy Tree and much more.
Whereever the personal holiday starting line is drawn, by this point in December we are into full-on warm-weather winter festivity immersion here in America's Caribbean Paradise. The finish line is only reached when the shoe (or pirate wench, or conch shell, or Key lime wedge) drops on New Year's Eve. Then it's time to relax a bit in the strangely quiet, slightly hazy, mildly hung-over vibe of New Year's Day. Always a good occasion to pull up to a brunch table, maybe take a hair of the dog with a mimosa or Bloody Mary, and take stock of the past year to see if it helps in making assessments about the year to come.
Key West Sails Back on Course
We have seen a few bumps in the road and hurricane puddles in the streets this year, but Key West is definitely back to her old self. We shook off the last shadows of the pandemic with a great 2022 Fantasy Fest complete with parade, and despite the tough inflationary economy, have seen many positive developments and successes small and large.
Key West visitor numbers are strong and growing, and as the pandemic era so sharply illustrated, visitors keep the island's economic heart beating and add much to the general vibrancy of life here. Right out of the gate in January 2022, Key West International Airport welcomed 65,893 people to the island, the highest ever January total and a 22.4% increase from January 2021.
That is saying a lot considered against the 2021 post-lockdown breakout when even the slower summer visitor season set records, with Key West hotels hitting 91.3% occupancy in May. Of course, it helped that airlines responded to the all-time-high 2021 Key West passenger counts by increasing connections: Allegiant, American, Delta, JetBlue, Silver, and United all started non-stop service to Key West in June, 2021.
Complete 2022 Key West visitor numbers are not in yet, but as of April, airport arrivals were up to 277,719—a pace that is easily on track to beat the 737,975 total 2021 airport arrivals. In contrast, cruise ship visitor numbers remained anemic in 2022; only 135,821 cruise ship passengers had stopped in Key West by July of this year. This is far off track from a cruise passenger arrival count that was nearing a million annually by 2019, before COVID struck the cruise industry a near-fatal blow. Still, in July of 2021, the number of cruise ship arrivals YTD still sat at zero, and Key West finished 2021 with only 4,369 cruise ship visitors, so there is substantial improvement this year and literally nowhere to go but up.
The Key West Ferry is an often overlooked but very popular way to come down to Key West from the Miami area. By July of this year, 66,463 passengers had debarked on the island from the Ferry. With this YTD number, the Ferry appears on track to regaining pre-pandemic levels that were routinely in the 90,000 passenger range, or at least coming near the 89,442 total ferry passenger arrivals of 2021. Finally, although they are not officially tallied, it goes without saying that visitor arrivals by the Overseas Highway were strong—traffic on the only highway down to Key West has been heavy since June 1st 2020 when the pandemic road closure lifted and the Keys reopened.
The 2022 Key West Property Market
Concerning Key West real estate, a topic that is naturally of perennial concern to us here at Bascom Grooms Real Estate, 2022 numbers are not complete yet but there are some unmistakable trends in play. Just making a simple comparison between November 2022 vs. November 2021 home sales, 27 residential homes sold this November at an average sales price of $1,030,443. Sales were slightly down from the 49 homes sold last November (in an astonishing year for Key West real estate) but compare the November 2021 average sales price of $863,748 to find a 16.6% price increase for 2022. Inventory is relatively stable, with 129 homes on the market this November vs. 131 for sale in November 2021.
Lots of folks are still looking to make their home in Key West, and potential sellers can do well right now, with prices in a favorable range and so many people interested in the Florida Keys. Buyers can find some real gems in Old Town and other Key West neighborhoods, and there are also some attractive properties available in the condo, apartment, and commercial sectors. If you have dreamed of starting a business in paradise, or maybe picking up a rental property, we can point out some good opportunities around Key West and Stock Island.
Here at Bascom Grooms Real Estate, we have built our reputation on knowing the market intimately and treating our clients the way we would wish to be treated ourselves. It has been an honor to serve all our clients' Key West real estate needs and contribute to our island community in 2022. Please enjoy the holiday season with our best wishes, and if you are in town for Christmas in Key West and would like to know more about homes in Key West and the Lower Keys, stop by and see us any time at 1716 North Roosevelt Blvd. Key West, FL 33040.