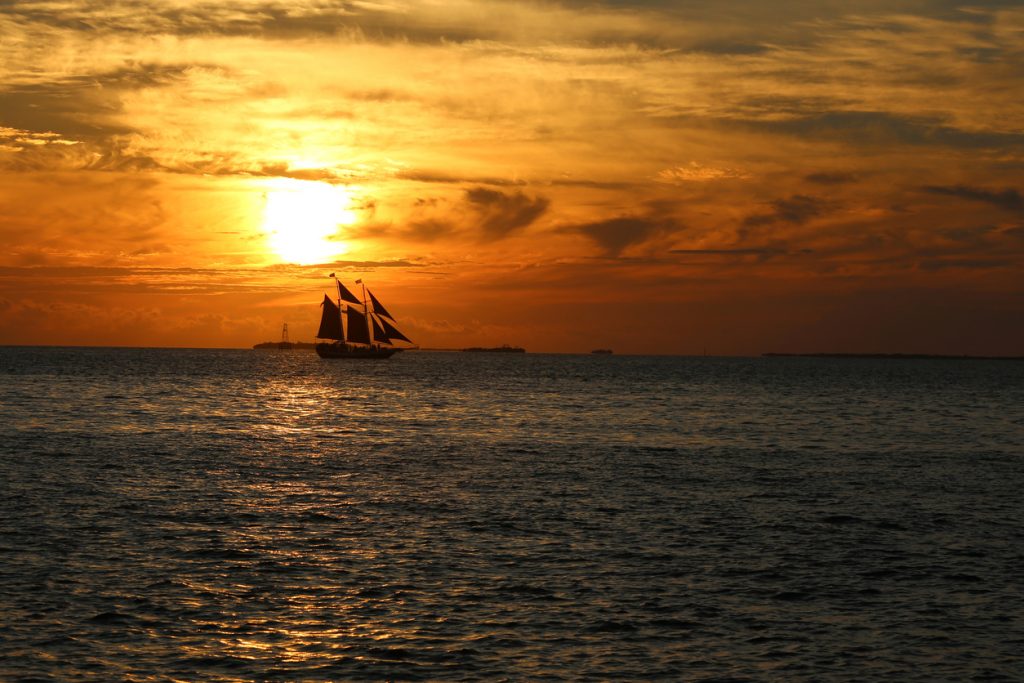 Summer in Key West
June 15, 2022
Summer Vacation in America's Caribbean Paradise
You can see a different side of Key West in the summer when the weather warms and the crowds thin out. The days are sultry and often punctuated by morning showers and sometimes thunderheads rolling in off the water. Summertime starts the island's rainy season, with June and July averaging about 3 inches, August through October about 5–6. But shower activity generally comes in the morning hours, freshening the air for the day and offering a perfect excuse to brunch or tuck into a bar for a cold drink.
It is hot and humid, but temps rarely top the low 90s and the island breeze is usually dependable. If not, see the above and head for a nicely air-conditioned bar stool. And Conchs will tell you that summer is the best time to be on and in the waters around Key West. Flat calm conditions are common, fishing is good, and the chances of catching perfect visibility for diving and snorkeling are at their peak. Island summer sunsets are also wonderful as the volatile atmosphere and cloud formations produce spectacular "southern lights" streaking the sky above the horizon.
Key West Summer is a Festive Affair
When you add in the benefits of low-season hotel rates, great specials in the restaurants, and awesome uncrowded happy hours, you already end up with many great reasons to summer vacation in Key West. However, there is another nice feature of summer in our island paradise—the busy round of festivals and special events on offer nearly every week. There are a lot of fun things to do, including little-known happenings that capture the unique Key West spirit of quirky creativity and willingness to chip in for a good cause.
The season kicks off with Key West Pride, usually set for the second week in June; this year the parades, parties, and proud LGBTQ community members, families, and friends lit up the island city from June 7–11. Thousands come to town every June to enjoy the open and accepting atmosphere Key West is famous for and demonstrate our One Human Family philosophy in action.
Key West Pride launches summer, Fantasy Fest ushers in the fall and winter holiday seasons—these are arguably the 2 biggest and most-well known special events on the annual calendar. In between, during the 3 official months of summer, you can find a number of entertaining events that gather locals and visitors alike to enjoy good times, tasty treats, and a slice of the culture that makes Key West such a special place to live.
Go Mango
Taste the hot tropics at a celebration dedicated to one of the sweetest, juiciest fruits on earth. June 23–26, Mango Fest Key West brings everything mango together during 4 days of mango-centric demonstrations, education, shopping, competitions, and of course tasty treats. Highlights are local-favorite cooking and recipe demonstrations with plenty of opportunities to sample, and the Mango Mania Vendor Village featuring mango-related items and much more on Saturday June 25th in Bayview Park. Only in Key West will you find this much ado about mangos, and it all goes to support the Key West Police Athletic League in their work to get local children involved in after-school sports and education programs.
Enjoy the Limelight
Be in town June 30 through the 4th of July weekend to taste a classic Florida Keys dessert at the Key Lime festival. Native to tropical Southeast Asia, this small, zesty citrus fruit was introduced to the Caribbean and Florida Keys by Spanish explorers. Learn the history of the cool, tangy summer treat based on this hardy little lime when the festival opens the evening of June 30 with a champagne reception at the 1869 Curry Mansion, once home to Florida's first millionaire and the cook who created the original Key Lime Pie. Days of delicious lime-inspired food and drink along with plenty of pie lead up to the World Famous Key Lime Pie Eating Contest on 4th of July afternoon.
Swim with the Mermaids
All that pie is going to call for a bit of exercise. Fortunately you can go for a swim with mermaids from around the nation who splash their way to Key West for several days of family-oriented fun at the Key West Mermaid Festival July 1–July 5. Key West native Mermaid Kristi Ann calls her pod together at the behest of King Neptune for 5 days of oceanic adventure aimed at raising awareness of the need to protect our precious coral reef ecosystem. Meet the mermaids, swim with them in the festival pool, attend ocean-themed parties, and check out the weekend mermaid- and ocean-inspired marketplace at Truman Waterfront Park complete with splash-pad fun for the kids.
Take a Tuneful Dive
Go snorkeling for a cause at the 38th Annual Underwater Music Festival July 8–July 9. Continuing the theme of reef protection, this funky fest starts the evening of Friday July 8th at Mote Marine's Elizabeth Moore International Center for Coral Reef Research & Restoration on Summerland Key just north of Key West. Tour the facilities, learn about reef preservation and restoration, and enjoy free live music, beverages, and light snacks. On Saturday, boaters, divers, snorkelers, fans, and photographers from around the world gather on and under the water at Looe Key National Marine Sanctuary where DJed tunes are piped under the water and fantasy bands in dive and snorkel gear play underwater air-guitar on artistic, marine life-inspired instruments. It is a truly one-of-a-kind celebration of the beauty and importance of the Lower Keys marine environment.
Meet the Papas
Celebrating the birthday of American literary giant Ernest Hemingway (July 21, 1899) along with his out-sized lifestyle, love for Key West, and residence here during the 1930s, the Hemingway Days Festival has been held in Key West every July since 1981. Born at Sloppy Joe's Bar and originally featuring a serious convocation of literary scholars, the highlight of this sometimes raucous and always hilarious event is the Hemingway Look-Alike Contest—a beauty contest for chubby old men with gray beards. Running July 19–24, this year's event features a museum exhibit of Hemingway memorabilia, a 3-day marlin fishing tournament held in honor of Hemingway's love of deep-sea angling, literary readings and scholarly presentations, a street fair celebrating the island spirit that captured the author's imagination, a 5k run and paddleboard race, a zany "Running of the Bulls" down Duval Street in front of Sloppy Joe's, and the grand finale of the Look-Alike Contest when the 2022 Papa is chosen at Sloppy Joe's the evening of Saturday July 23rd. Over the years, members of the Hemingway Look-Alike Society have raised hundreds of thousands of dollars to support scholarships for Florida Keys college students studying literary arts and nursing.
Sea Food and Eat It
Get your lobster on at the 25th Annual Key West Lobsterfest August 11–14. This traditional launch party for the Florida Keys Lobster fishing season delivers everything a seafood lover could want with all sorts of lobster-focused action from pool parties to pub crawls, a street fair & concert, and of course lots of sweet Key West lobster served boiled, grilled, in a fine dining setting featuring wine pairings, and every other imaginable way. The famed Key West pink shrimp, conch fritters, and all kinds of delicious side dishes also make an appearance, so bring your appetite.
Have Lots of Fun in Summertime Key West
You are sure to be busy on any summertime Key West visit, but the long hot days are also perfect for relaxing pool side or on the beach. Check out some snorkeling close to home at local favorite Fort Zachary Taylor State Park. And if you are thinking about making Key West your home, be sure to stop by and say Hi to us here at Bascom Grooms Real Estate down by the Garrison Bight waterfront at 1716 N Roosevelt Blvd in Key West.