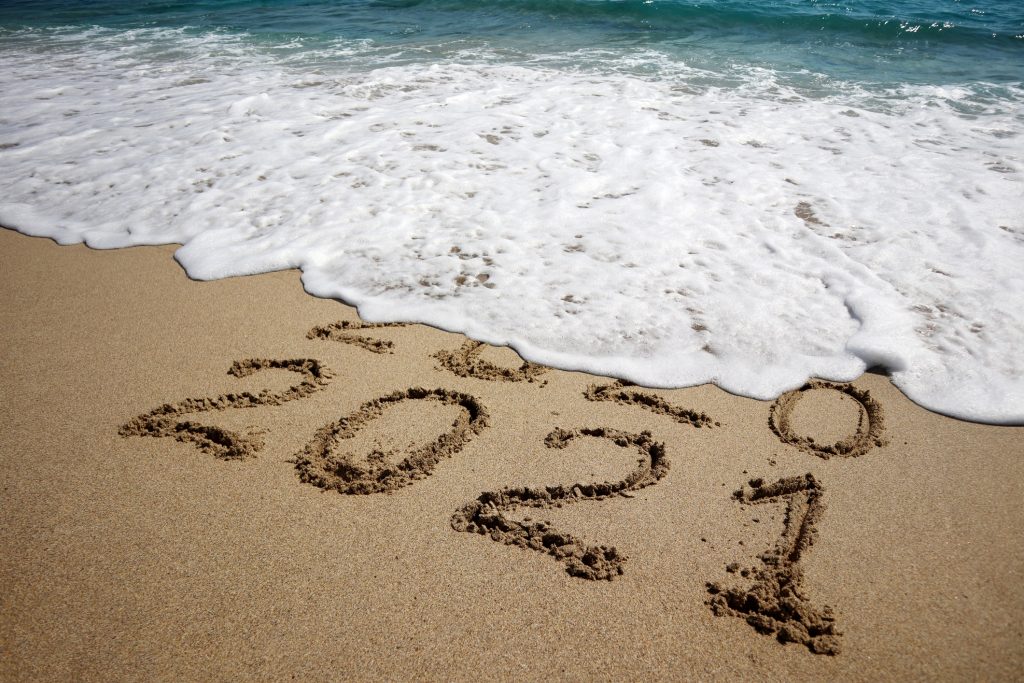 Out With the Old!
January 15, 2021
Masks Can't Hide Key West Holiday Spirit
After a year of unprecedented challenges, Key West visitors and locals alike questioned the fate of the island's legendary holiday festivities, especially given an unfortunate spike in COVID 19 cases. There was certainly cause to worry when the Key West Hometown Holiday Parade and the 30th Annual Key West Lighted Boat Parade were canceled. Or, put in a more positive light, the longstanding seasonal mainstays and island favorites were "postponed" until 2021.
And for a town that prides itself on partying, the final shoe dropped when tight News Year's Eve restrictions went into place. Key West Mayor Teri Johnston issued a December 4 emergency order establishing an island-wide 10 p.m. to 6 a.m. curfew running from Thursday, December 31, through Sunday, January 3. All non-essential businesses were required to close by 10 p.m. Apparently the mayor overlooked the fact that, in Key West, places to find a beverage, music, and convivial company are certainly essential if not critical.
But Conchs are nothing if not resilient, and there was plenty to see, do, and celebrate around town during the 2020 holiday season. Even if the wave of ever-shifting, pandemic-inspired cancellations and adaptations made a seasonal recap much easier to do than a preview.
Old Standbys Weather the Storm
Holiday lovers of all ages strolled the Historic Seaport Harbor Walk enjoying the lighted palm trees and displays like the Fishing Buoy Christmas Tree, Lobster Trap Christmas Tree, and a fresh pine Nautical Christmas Tree along with light designs like ship's anchors, tropical birds and fish, flamingos, and animated marine animals.
There were also plenty of gaily decorated businesses as well as historic inns and homes to see. Walking tours and Christmas light cruises on the Old Town Trolley and the Conch Train provided safe and easy ways to take in the local Christmas spirit. The Key West Garden Club decorated the West Martello Tower at Higgs Beach, bringing more history and beauty to the holiday celebration.
Christmas Day cocktail brunch cruises, all-day snorkeling and water fun trips with special treats, and holiday feasting on sunset cruises were nice options for those who wanted to do Christmas on the water.
The show must go on (virtually)!
A third major island-city crowd pleaser, the holiday Parade of Paws pet parade raises funds for the animal shelter and brings fame and prizes for competitors. To curtail the large public gathering, the event went virtual with a race to earn a place in the Royal Court and secure cash prizes and other fun items while supporting the shelter. Pet owners had the entire month of December to create pages at Justgiving.com and post pictures showing off their holiday-costumed pet to collect votes and pledges.
Other important events that went virtual included the November 30 Christmas tree lighting and the December 13 Lighting of the Menorah, both held in Bayview Park. The ceremonies, which usually draw huge crowds, were streamed via Facebook live.
The Annual Holiday Artisan Market featured online shopping for holiday treasures produced by local artisans. And there was a new event, also highlighting islanders' creative spirit. The Key West Holiday Movie Challenge gave would-be filmmakers one long weekend to reimagine favorite Christmas movies with a Key West twist. The entries were then screened online December 19-26.
Out with the Old, In with the Shoe
What to do when they cancel a New Year's Eve party so big it is covered live on CNN every year? Sadly, the popular Sloppy Joe's Conch Shell Drop and the lowering of the Pirate Wench down the schooner mast at Schooner Wharf Bar had to go by the wayside for 2020.
However, the Bourbon Street Pub kept tradition alive by moving the 23rd consecutive Drag Queen Red Shoe Drop to the pub's private rear courtyard area. The event was ticketed to reduce crowds, and held at 9 p.m. to comply with the curfew and coincide with midnight celebrations in other world time zones.
The Shoe Drop was a fitting end to a year that most of us would certainly like to see sent on its way with a swift kick, but our scaled-down island holiday festivities still offered a healthy dose of good cheer. The positive attitude and persevering spirit of Key Westers were on full display, and good times were had by one and all.
Holiday Fest 2021 is looking to come back bigger and better with the new ideas and adaptations generated by the pandemic year, so plan now to be in Key West next Christmas celebrating with the Bascom Grooms Real Estate team, you local experts in Key West and Florida Keys real estate.