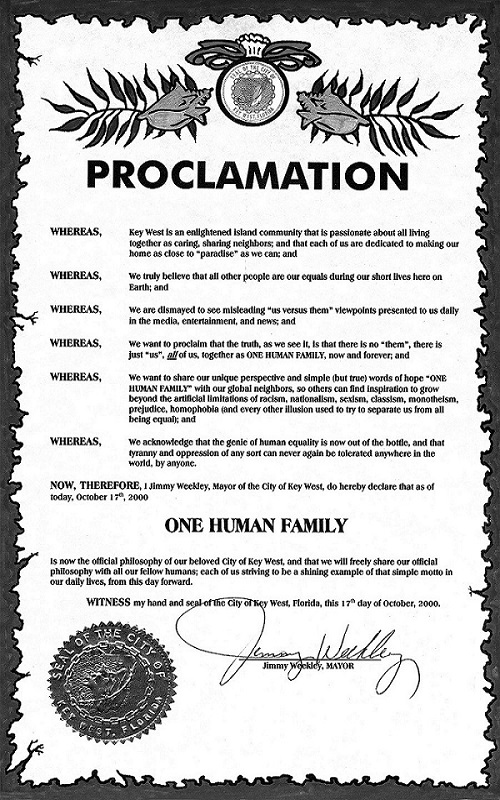 One Human Family
April 15, 2021
One Human Family in Key West
ONE HUMAN FAMILY – The simple slogan was adopted as the official philosophy and motto of Key West by the Key West City Commission in October 2000.
The commission issued a proclamation that stated "Key West is an enlightened island community that is passionate about all living together as caring, sharing neighbors. We want to share our unique perspective and simple (but true) words of hope, 'ONE HUMAN FAMILY,' with our global neighbors, so others can find inspiration to grow beyond the artificial limitations of racism, nationalism, sexism, classism, monotheism, prejudice, homophobia, and every other illusion used to try to separate us from all being equal."
City of Key West Mayor Jimmy Weekly highlighted the intent to share the perspective with neighbors in hopes that everyone would find inspiration to grow together beyond our human differences. In 2001, the motto was adopted by Monroe County for the entire 125-mile-long Florida Keys chain.
The message has now gone worldwide, with over 3 million free bumper stickers distributed across the planet from Antarctica to the Sahara Desert. Carnival Cruise Lines, Tropicana Orange Juice, General Electric Finance Corporation, the AFL-CIO and other organizations have employed the concept to build awareness of diversity. World leaders including Barack Obama and Pope Francis have referenced it in speeches, and the Dalai Lama has included it in his writings.
The Humble Beginnings of a Global Movement
Key West has a historic reputation as an island where diversity dominates and respectful tolerance is a community value. It only makes sense for a small city that has been home over the centuries to pirates and smugglers, renegades, wreckers, and rum runners, immigrants, artists, celebrities, presidents, and eccentrics of all types.
In 1979, graphic designer JT Thompson relocated from Los Angeles to the Conch Republic of Key West looking for a lower-stress lifestyle. He was immediately impressed by the way Key Westers treated each other as equals and worked together to make the island a true paradise. In 1999, after nearly 20 years as a partner in a graphic design firm now known as Design Group Key West, Thompson felt inspired to banish exclusionary connotations associated with the word "family" and expand its meaning to include everyone.
JT designed a bumper sticker that read "All People Are Created Equal Members of ONE HUMAN FAMILY". He printed some up and began distributing free stickers on January 1, 2000. By 2019 more than 3 million bumper stickers and 400,000 wrist bands had been distributed to people in 95 nations. Now One Human Family stickers and wrist bands are available for free worldwide, with an all-volunteer, donation-funded non-profit group handling printing and distribution.
More Relevant Now Than Ever
There has been a recent surge in demand for One Human Family stickers and materials as communities like Dallas, Baton Rouge, Orlando, Baltimore, Charleston, London, and Paris work to build unity in a world of increasing diversity. The One Human Family concept, the we are like fingers on a hand, each unique but equally valuable, joined to each other and meant to work together, is used as a rallying point to bring people together.
In JT Thompson's words "In a world where so many believe the illusion of separateness, understanding human unity is our only healing solution. Our differences are superficial distinctions and cannot be allowed to be twisted into cultural divisions."
Events in the United States over the past few years and particularly during the summer of 2020 only serve to emphasize the importance of understanding and embracing these ideas. Divisions suddenly widened into yawning chasms and differences of opinion devolved to violent chaos at the very moment when we all needed to pull together more effectively than ever to battle the unprecedented threat of COVID-19. And it is important to note that Key West stood alone, figuratively and literally, as an island in the midst of the turmoil.
The Conch spirit held firm as Key Westers and folks all along the Keys worked to weather the pandemic storm just as they have so many others. Violence and rioting are foreign to the nature of our island paradise, and the place is just too small for that anyway. People in other places have seemed to notice because they are flooding the Keys looking for homes in safe, quiet, beautiful surroundings where kids of all ages can enjoy sun, sand, blue water, and friendly neighbors.
Come Home to Key West
If you and your loved ones have been inspired by recent events to look for something different in life, consider the Lower Florida Keys and Key West. Down here, it is easy to stay in touch with the beauty of nature and with the people around us as we join to create community.
By working to embrace the One Human Family philosophy in everyday life as well as with dedicated special events and festivals, Key Westers strive to adopt kindness and unity as a way of life. Sure, nothing works perfectly, but keeping an admirable goal front-of-mind is certainly better than some of the alternatives we have witnessed of late.
To learn more about life in the unique island communities of the Lower Florida Keys, Get in touch with us at Bascom Grooms Real Estate. Living and working in a tropical island paradise can be more than just a dream on the only Caribbean island connected to the U.S. mainland by road. Come on down to Key West and join the family!