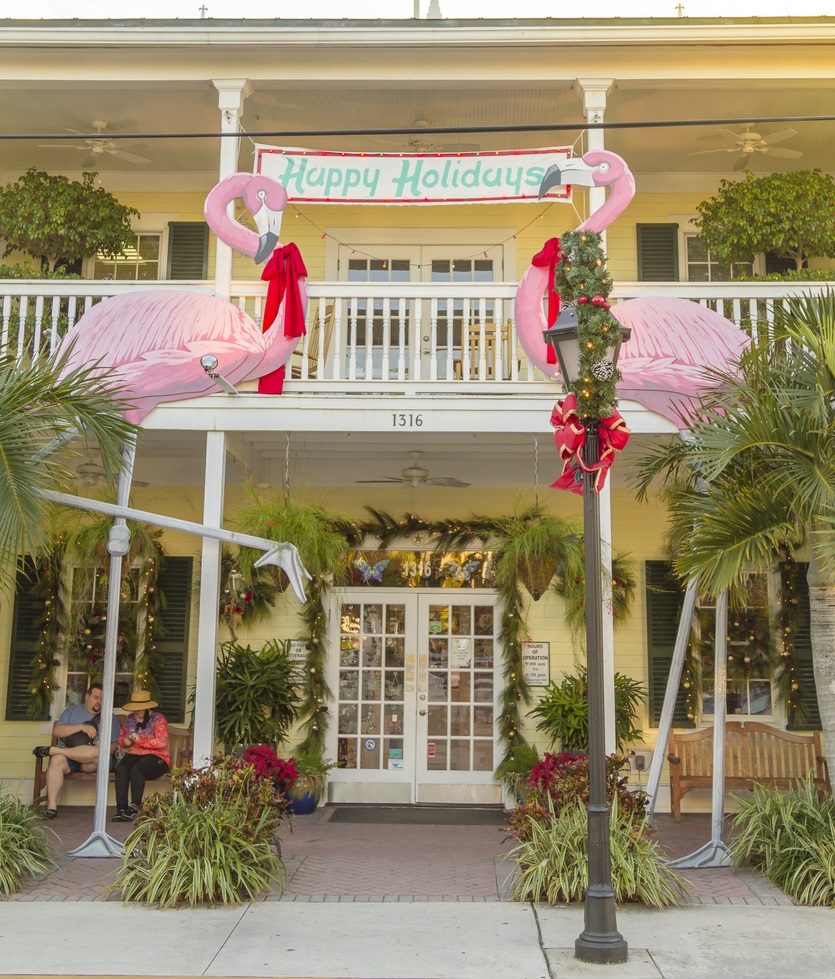 Key West Real Estate: Naughty or Nice in 2021?
December 15, 2021
The Seller's Market Rolls On
In June 2020, when the Florida Keys re-opened from the pandemic shutdown, a phenomenal Keys-wide run on residential real estate kicked off then continued through the year and into 2021. When residential inventory fell short, vacant land sales took off, and the commercial property market also responded positively to the flood of visitors and new residents.
As of September 2021, residential property and vacant land have accounted for 92% of all transactions and sales prices have rapidly climbed. The average price of a home in the Florida Keys hit $951,037 in September, up 26% from the 2020 average of $754,399, and an increase of over $250,000 since 2019.
Throughout the Keys, property sales for August and September slowed a bit to come in lower than the same period in 2020, but that time of post-COVID reopening was an anomaly that does not make for good year-to-year comparison. There was a rush to the Keys both for lockdown recovery recreational activities and in search of new places and ways to live after the unprecedented emergency we all faced. This year, more typical market forces seem to be coming back into play, with autumn traditionally being a slow part of the annual real estate cycle.
A Hot New Normal for Key West Real Estate
The fact that sellers have responded to market forces by pushing prices to record levels may now be putting a mild damper on Keys real estate sales, but the effect does not appear too pronounced in Key West. As September ended, going into the 4th quarter of the year, the Key West real estate market was still showing significant strength on a yearly basis. Let's look at some numbers.
In November 2019, 38 of 315 listed properties sold in Key West; for November 2020, 44 of 280 listed homes sold; in November of this year, 49 properties sold out of 131 listings, with average sales price and days on the market at $863,748 and 62 respectively. A similar year-by-year comparison of average sales price makes it appear that Key West real estate has not been subject to the price jump that has affected properties in the rest of the Keys. An apparent slight decrease is shown by comparing November 2019 at $907,461 and November 2020 at $841,671 to November 2021 at $863,748.
However, the wide price range represented by Key West residential properties makes it difficult to pick trend out of noise. In fact, the island market has been very hot so far this year, with sales in Key West up 75.8% as compared to 49% for the Keys overall as of September. The average list price in Key West was up 9.9% and sales price increased by 14.4% against a background that featured 34.9% fewer listings than the same period last year. This tightening of available inventory is the important factor to recognize, especially when evaluating Key West real estate in particular.
The End of Expansion
As indicated by pending sales, the Key West real estate market remained very steady going into the 2021 fall and winter season. August pending sales of 85 dropped to 80 in September, the climbed back to 84 in October and stayed at 83 in November. Average sales price over the three months fluctuated from $999,512 to $1,141,162 and down to $863,748 for November.
But the high end of the market has done very well this year, with 165 properties priced at $1,500,000 or more sold. These high price points disrupt the average, so it is logical to conclude that price activity on the monthly scale is more likely indicative of specific inventory conditions and individual property sales rather than any overall market trend.
With pending sales numbers along with closed sales figures holding steady coming into December, the Key West real estate market looks set for a strong finish to 2021 and a continued runup into 2022. It would not be surprising to see a slight drop in sales because we are in an economic context that includes rising interest rates driven by climbing inflation, changing Federal income tax laws, and increasing flood insurance premiums implied by new FEMA flood maps for many areas in the Keys.
Still, inventory conditions must be considered, and it is clear that Key West faces a condition of tightening supply.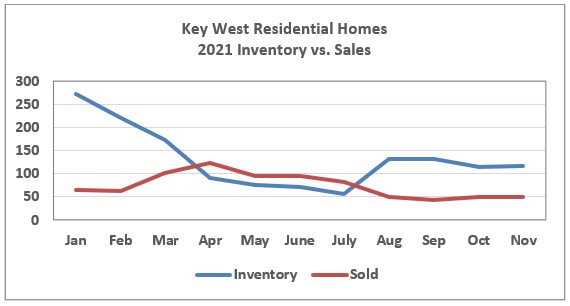 The Rate of Growth Ordinance (ROGO) is coming to an end in 2023, theoretically marking the end of building in the Florida Keys. This deadline was set according to a cap based on the population size that can be 100% evacuated from the island chain within 24 hours of an impending hurricane. Although the ROGO is still a wildcard in that predictions are all over the place as to what might really happen with this deadline, there is no question that the demand for building permits is skyrocketing along with the cost of Transferable Building Rights. The simplest way to summarize the overall situation is get while the getting is good if you hope to enjoy a Key West or Lower Keys home.
Holiday Greetings from Bascom Grooms Real Estate
Key West real estate has definitely been nice in 2021, but putting business aside, Happy Holidays and good wishes for the New Year to all our friends old, new, and future. Here in America's only Caribbean Paradise, town bustles with fun and merriment this time of year, and seasonal frolics and festivities make an end-of-year visit well worthwhile. And of course, Key West New Year's Eve, with its iconoclastic count-down drops of various types along with many celebrations and spectacles, is a legendary good time.
If you can make it down here to the End of the Road for the holidays, drop by and see us at the Bascom Grooms Real Estate headquarters overlooking the historic Key West Bight at 1716 N Roosevelt Blvd. Or get in touch with us to start exploring the possibility of being home for the holidays in Key West next Christmas.