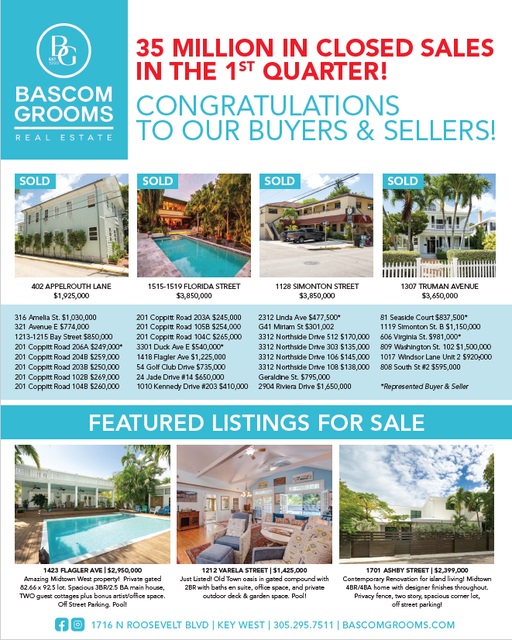 Key West Real Estate 2022 Outlook
April 15, 2022
Key West Property Market: Onward and Upward in 2022
As the Key West property market exits the pandemic years and settles into 2022, 1st Quarter action indicates that the trend remains firmly upward. The situation is largely unchanged since Florida Keys real estate went white-hot following the June 2020 post-lockdown reopening of the island chain and Key West.
On pace with the rest of the country—suburban, small town, and rural areas in particular—Florida Keys real estate was subject to major price increases and record-setting sales volumes in 2021. It's a situation that has continued into the first quarter of 2022, and crunching the numbers from both short- and long-term perspectives puts values and the pace of sales on a steady onward and upward trajectory for the next decade.
In fact, if current trends continue, simple math has Key West real estate prices increasing by more than 24% over the next 10 years. Barring force majeure-type interventions, any decrease in Key West home value is likely to be a minor and transitory sales statistic, mostly a product of the closed market and limited inventory that are features of real estate on a small island. For instance, fluctuations in Key West home value over the past 12 months have produced 11 increases versus 1 small decrease.
A Florida Keys Twist on Nationwide Trends
Soaring home prices were a prominent feature of markets across the country in 2021, and it was the best year in recorded history for Florida Keys real estate. Country-wide and in the Keys, the rate of price increase has eased a bit as the competitive buying frenzy slows, inventory increases a bit, and mortgage interest rates climb. This is good news for buyers in general, but buyers and sellers with an interest in the Florida Keys and especially Key West markets need to remain aware of the unique conditions that prevail here.
Home building space is very limited in these islands. There are strict controls on building permit allocations and a theoretic hard and final cap on development in the form of the Rate of Growth Ordinance (ROGO) system. ROGO is intended to cap population growth in accordance with a Regional Evacuation Transportation Analysis model of the number of people that can be evacuated within 24 hours in the event of an approaching hurricane. Under this model, all new building in the Keys should be halted in 2023.
This leads to the unique situation mentioned above: for homes in the Keys, average sale price and the number of annual sales is controlled by the market inventory, or number of properties for sale. In other words, sellers rather than buyers tend to control the Florida Keys property market most of the time. Given the natural limitations of the region, exacerbated by the end of ROGO in 2023, there is no reason to expect any significant decline in home values here.
Key West Real Estate 1st Quarter 2022: Off to a Good Start
According to realtor.com, the March 2022 median listing price for homes in Key West was $1.1 million, up 27.7% year-to-year. Median selling price was $885K, or 884 per square foot. Keep in mind that, in a tiny island city market like Key West, statistics may not mean as much because the sale of one or two multi-million dollar trophy properties can cause significant skew in the numbers. But it is no exaggeration to say that a home in this tropical paradise is a very desirable commodity, and even more so after the recent years of unprecedented stress and disruption in America's urban settings.
A more important statistical take away is the fact that, after remaining flat from November 2019 through most of 2020, Key West property prices have begun to climb fairly steeply from the March 2021 median home sold price of $800K. Another indicator of market heat is median days on the market—at a 3-year low of 51 days in March 2022. And looking at Old Town, the heart of Key West, for an example of sales velocity, 1st quarter 2022 sales of 53 single-family homes comes in second place only to the all-time high of 71 set in 1st quarter 2021.
Go With Bascom Grooms Real Estate in 2022
At this point, 2022 is looking very good for Key West real estate, and if you are a buyer or seller in a market that is setting all kinds of records, you want a high-performance team on your side. Bascom Grooms Real Estate handles residential property in Key West and throughout the lower Florida Keys with the kind of local expertise that only comes from 22 years as one of Key West's top real estate agencies.
Coming off a record year in 2021, with over $118 million in closed sales, the team at Bascom Grooms is looking for another great performance in 2022. They have successful closings on 30 properties already in the books this first quarter of 2022, including an amazing one-of-a-kind 11,264 square-foot Key West corner lot compound with three homes, a pool, workshop space, and off-street parking just steps away from the beach on Key West's beautiful south shore.
Sounds good, doesn't it? Buyers can find similar great properties on the market and sellers are in a good position right now as well. If you are considering a move to our island paradise, have a Lower Keys home you would like to sell, or just want to know more about Key West real estate, contact us here at Bascom Grooms Real Estate. We are your local Key West real estate connection located on the island at 1716 N Roosevelt Blvd. overlooking historic Charter Boat Row on the scenic Garrison Bight waterfront in downtown Key West.