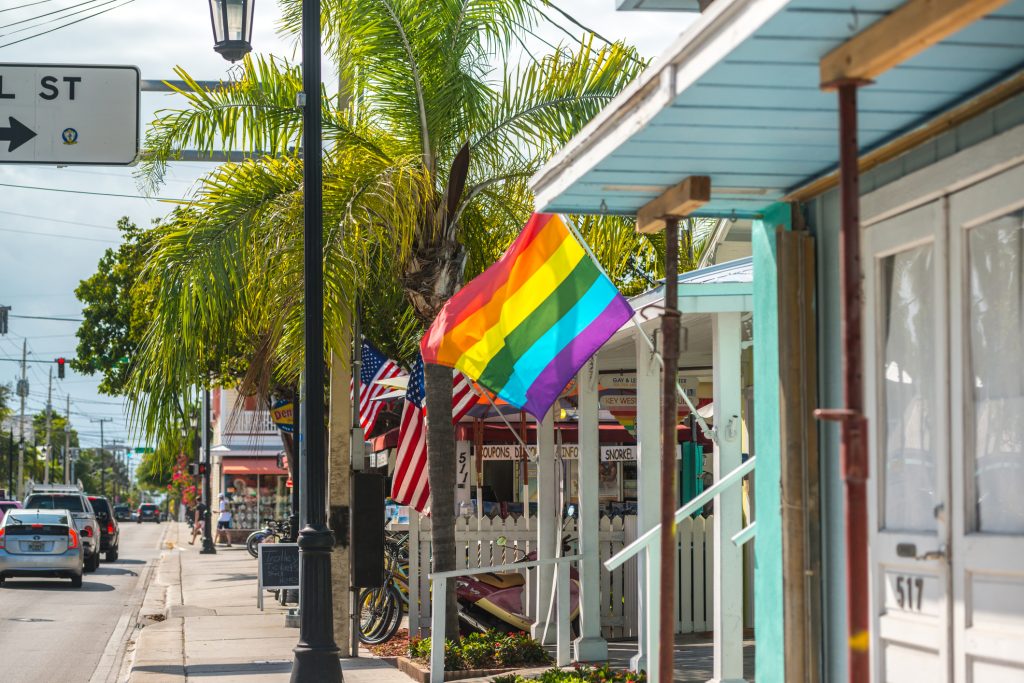 Key West Pride 2021
June 15, 2021
Proud to be back in Key West!
Bascom Grooms Key West Real Estate congratulates everyone, locals and visitors alike, who helped make Key West Pride 2021 such a success. After a rough 2020 that saw the Key West Business Guild's Key West Pride celebration canceled along with so many of the other special events that make Key West such a unique place, Pride was back for 2021 with 5 days of parties and happenings both rowdy and refined.
Unfortunately, the Pride Parade, considered by many to be the main event of this festival of forthright gayness, was canceled due to COVID fears and official restrictions on public gatherings. However, the parade is expected to be back for 2022 and this year's show did go on strong beginning with a Wednesday June 2nd kick-off luncheon at the Marriott Beachside resort and wrapping up on Sunday the 6th with the traditional Rainbow Roast Hawaiian luau.
Celebrating a Tradition of Tolerance
Key West Pride honors the island's long-standing reputation as an open and accepting destination that welcomes everyone. Key West began gaining attention as an underground gay culture and lifestyle hotspot during and shortly after the WWII era. Well-known gay artists and other notable personages including writer Tennessee Williams, poet/musician Leonard Bernstein, writer Truman Capote, poet Elizabeth Bishop, playwright Jimmy Kirkwood and many others put Key West on the counterculture map as a place to stay, play, and get away from the intolerant mainstream.
By the 1970s, the island was getting a rush of gay visitors and had more than 30 guest houses that catered to gay men. The rest is history as they say, and in recent years some critics have even proposed that Key West's peak as an influential center of gay tourism and queer culture in general has passed. Other commentators respond with the likely more accurate observation that, along with a decline in hate and intolerance across broader society, the power of the Key West community is such that distinctions and boundaries between folks have faded as the island spirit of One Human Family has flourished.
Another reason to party in Key West!
Key West Pride is a relatively small but very powerful event put on by the Key West Business Guild, a local LGBT civic organization that has been promoting Key West to gay and lesbian travelers since 1978. Highlighting Key West as a place where stereotypes and boundaries have been ignored for centuries, the Guild has consistently shone a spotlight on Key West as a truly accepting, come-as-you-are place where LGBT and all visitors can express their creativity, freedom, and love.
While far from being the largest Pride Week celebration in the United States, due to the island's unique and important role in gay history, Key West Pride is one of the most iconic and beloved gatherings. It is a festival that honors the importance of the city's place in gay culture and does so with the kind of gaudy over-the-top fun that Key West is best known for. Many important local businesses including the Marriott Key West Beach Side resort, Fury Water Adventures, Iberiabank, Island House, Sotheby's International Realty, and others support Key West Pride as sponsors and event hosts. The legendary island gay bar Bourbon St. Pub is at the heart of the action every year.
It is fitting that a festival celebrating the diversity of our One Human Family put on events this year ranging from a fetish ball and naked pool parties to a Sunday Pride Service at Key West's Metropolitan Community Church. Despite some disappointment over the missing parade, the Pride Street Fair on Duval Street was a rousing success and the brunches, drag queen shows, club parties, and all the other events were well-attended if not sold out. Early reports are universally hailing the first post-COVID Key West Pride celebration as a huge success and excitement is already building for the return of the Pride Parade next year.
We are Proud of Our Key West Community
Key West continues to thrive as a great place to visit and live for anyone who values membership in a progressive community were everyone is free to be themselves. The island environment seems to encourage a focus on enjoying the peaceful, beautiful side of life rather than wasting energy on argument and division. Pandemic be damned, Key West visitors and residents are still having good times in America's Caribbean Paradise, island attractions and businesses are busy, the city's creative arts scene is once again blooming, the colorful, quirky streetscape remains unchanged, and the Key West real estate market is booming.
This April, Bascom Grooms Real Estate celebrated 22 years of proud service in Key West, and our commitment to offering a superior client experience has not changed since our doors opened in 1999. If you are looking to buy or sell a home in the Lower Keys or would simply like to learn more about living in an authentic community where accepting and having fun with all our neighbors is a celebrated value, contact us here at Bascom Grooms Real Estate and let's talk.