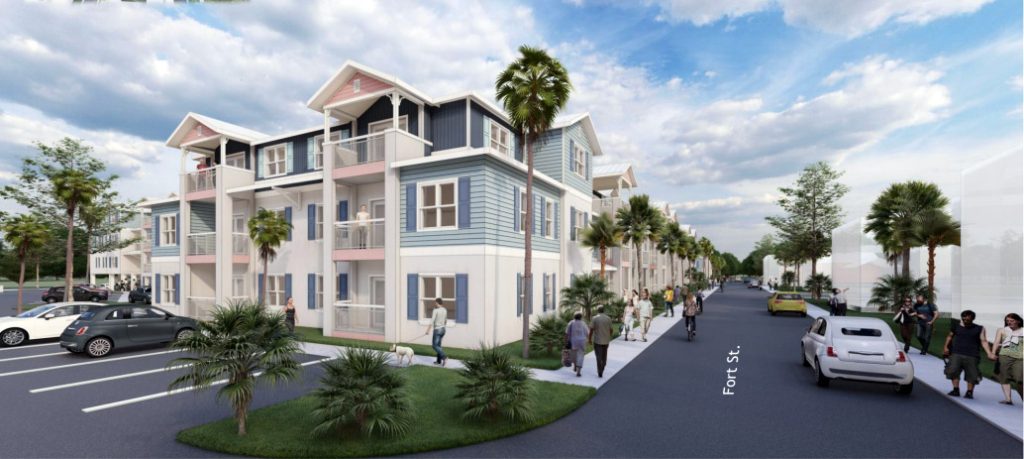 Key West Homes for All
May 15, 2023
Key West has a long history of welcoming all those brave and adventurous enough to make a home on this small, remote island at the southernmost edge of the U.S. And as economic conditions change, our community comes together to ensure that homes are available to everyone.
Facing the High Price of Paradise
The Key West real estate market is very strong, and solid property values are just one of the many features that make our little island and the Florida Keys in general such an attractive place to call home. Key West is truly a great place to be and an excellent place to own property whether it is a primary home, vacation hide-away, or long-term investment.
Unfortunately, Key West is just like many of America's other exceptionally beautiful and exciting locales—popularity has a downside for folks in need of easily affordable housing options.
Particularly in boom cycles like the one we have been in for some time now, soaring demand can drive Key West property values to climb faster than the salaries of some of the people who make our island a high-quality home. Limited land availability, a thriving temporary housing/short-term rental industry, and the generally high cost of living create significant challenges for Key West residents looking for a starter home or other housing option at a cost that fits within a reasonable percentage of their monthly income.
It's nice to see the amazing trophy homes in Key West. Meticulously-renovated historical classics, unique waterfront settings, and many other one-of-kind properties immediately pop up during any browse of Key West real estate listings. And the old saying about rising tides lifting all boats is certainly true when it comes to properties in Key West.
But the nature of the Key West real estate market often leaves the very people who make our community special—the seniors who reflect our history and heritage, our hospitality workers, fire personnel, police, teachers, and others in critical occupations—without access to the security of being able buy a place of their own or even rent at a figure much below 30% of their take-home pay.
Affordable Housing Benefits the Community
Community members and city officials in Key West have a history of taking proactive steps to provide affordable housing to Key West seniors, those struggling with illness and disability, and members of our island workforce. Working together with developers, the U.S. Department of Housing and Urban Development, and non-profit organizations, the city Housing Authority has been able to re-purpose existing properties and in some cases undertake new construction in order to expand access to affordable housing on the island.
By adding affordable options to the Key West housing market, these projects contribute to a more inclusive and diverse community, while fostering social cohesion, economic stability, and long-term sustainability.
Affordable housing projects promote social integration and inclusivity by building diverse neighborhoods. Residents from different backgrounds can live as neighbors and interact, increasing their understanding of others and enhancing the sense of tolerance and community captured in our Key West "One Human Family" motto. It adds up to increased civic engagement, a stronger social fabric, and safe, vibrant neighborhoods.
Addressing the housing affordability gap helps ensure that all island residents can secure housing without compromising other basic needs. This supports economic growth and resilience as families are able allocate more of their income towards patronizing local businesses as well as personal development efforts like education and training. Ready access to a high-quality resident workforce is a critical factor in promoting the ongoing success of our local businesses. This fact has been highlighted in Key West for some time now, and amplified during post-pandemic labor shortages.
Issues of environmental sustainability come into play when strategically-located affordable housing projects reduce workforce commuting distances. Shorter commutes translate to lowered carbon emissions, improved air quality, reduced traffic congestion, and less strain on transportation infrastructure. These outcomes align with our community's commitment to preserving the environment and improving the overall beauty and livability of our island home.
Two Fresh Affordable Housing Initiatives
Two projects of note that have been in the works for some time are now coming to fruition as an invaluable contribution to efforts aimed at providing housing access to all who call Key West home.
The Garden View apartment complex at 5220–5224 College Road on Stock Island is scheduled for a ribbon-cutting on May 23, with move ins beginning the following day. Funded by the Key West Housing Authority and built by local contractors, the $21 million dollar project broke ground in 2019. Garden View provides 103 one-bed, one-bath apartments, all of which are already reserved by applicants who qualified when leasing opened last year.
The Lofts at Bahama Village will offer 126 one- to three-bedroom apartments—98 rentals and 28 affordable ownership units—in a prime location on the city-owned Truman Waterfront space that was donated to Key West by the navy 20 years ago. The development will occupy 3.2 acres formerly used as a soccer field and now the last undeveloped parcel on the Waterfront.
Key West voters authorized The Lofts 99-year project lease in a January, 2022 special election. After permitting work along with a somewhat circuitous funding and pricing process, project backers hope to see a ground-breaking ceremony later this year. This project will revitalize the Bahama Village neighborhood and help long-time Bahama Village residents remain in place to maintain the unique culture and atmosphere of the area.
Find Your Place in Our Island Community
Just like anyplace else, Key West has seen many changes over the years, but one thing always remains the same here—our sense of community and persistent drive to work together toward the support and betterment of all. Through 200 years of both turbulence and smooth sailing, the Key West community has stood strong.
At Bascom Grooms Real Estate, we are proud to continue a 24-year track record of service to our community. We are grateful for the trust and support given to us by our neighbors on this small island, and look forward to many more years of serving buyers and sellers of Key West and Lower Keys properties.
If you would like to know more about making a home in Key West or the many exciting properties available on the island, please browse our listings and get in touch so we can answer your questions.
Bascom Grooms Real Estate—1110 Truman Avenue, Key West Florida—(305)295-7511—info@bascomgrooms.com