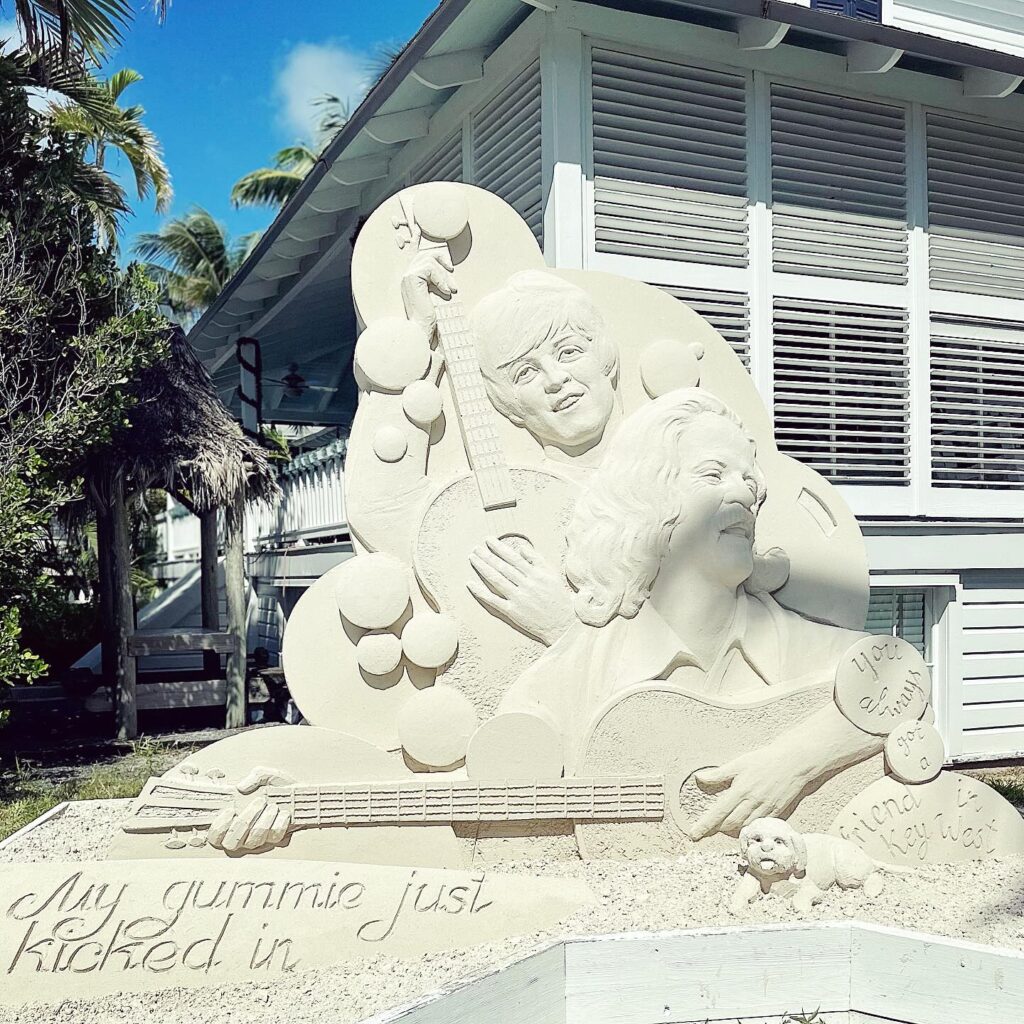 It's 5 O'Clock Somewhere
September 15, 2023
On the first day of this month, grief broke over Key West like one of our passing thunder squalls when word came that iconic 1970's-vintage local and beloved tropical tunesmith Jimmy Buffet had set course on his last long reach over the horizon. Key Westers will never forget the man and his music.
Mourning in Margaritaville
The legendary tropical-tinged singer/songwriter Jimmy Buffet showed up in Key West for the first time in 1971. He was on a road trip down the Florida Keys with his friend Jerry Jeff Walker, the folk and outlaw country musician who made his mark in 1968 with the classic Mr. Bojangles. Captivated by the offbeat culture and semi-renegade yet laid-back island vibe, Jimmy returned soon after to stay a while and make an indelible mark on the island that in turn left a clear and lasting influence on the singer and his music.
Last February 4th, in front of a loving and lively sold-out house, Jimmy kicked off his Second Wind Tour with the first of 4 Key West shows. Always one to keep the party rolling, Buffet closed out his final tour 7 months later with an early July surprise appearance in Rhode Island. On Friday, September 1, Jimmy passed away at home in Sag Harbor, Long Island. At 76, he had reached the end of a 4-year battle with deadly Merkel Cell Skin Cancer.
Jimmy's 32nd and last complete album, Equal Strain on All Parts, is slated for release in early November. Album co-producer and Coral Reefer Band alumni Mac McAnally describes the project as particularly satisfying to Jimmy, with the cuts ordered in a way that reflects the singer's life experiences and aspirations. McAnally notes that Jimmy stayed positive until his work was done, with few people around him aware that he was on the final leg of his earthly voyage.
An Island Legend is Born
Jerry Jeff Walker and his wife Teresa "Murphy" Clark took Jimmy in when he headed down to Florida after his attempt to break into the Nashville music scene and his first marriage both ended rough at about the same time. Walker had a place in Coconut Grove where Jimmy showed up looking for good weather and better times. Buffet had never been to the Florida Keys, so after he had been in Florida for a couple of weeks, Jerry Jeff decided a run south to Key West was in order.
Jerry introduced Jimmy to the Chart House and other now-legendary dive bars, along with the quirky local characters and culture of early '70s Key West. It was an introduction that was to have far-reaching effects on the island, the state of Florida, and music history. Buffet soon returned and began playing for drinks at the Chart Room, jamming with local musicians and budding legends like Jim Croce in front of an audience that reflected the hippie outlaw influence of the day.
Weed smugglers, treasure divers, beachcombers, local politicians, and lots of barflies showed up for the early sessions that would lay the palm-fringed foundation for Jimmy's tropical drift. A traveler, sailor, pilot, and pirate born two hundred years too late, Jimmy's music mixed a unique cocktail of folk, country, and Caribbean spirits. It spoke to his audience and would come to resonate with anyone who wistfully dreams of lazy days, long beaches, swaying hammocks, and frozen drinks.
In Margaritaville Forever
Commenting on Jimmy Buffet's impact on Key West, City Commissioner Clayton Lopez noted that wherever Jimmy lived, he always called Key West home. "Actually 'Margaritaville' became an iconic anthem for the city of Key West; everybody equates that song with our city. When you say Margaritaville, you're talking about the city of Key West."
Margaritaville, Jimmy's signature song, was released in 1977 on his Changes in Latitudes, Changes in Attitudes album. Despite the overall popularity of Jimmy's music, Margaritaville was his only song to break into the Billboard Top 10. That said, perhaps the true testament to the power of Buffet's work is the fact that Margaritaville regained the Top Forty in the week after his passing, when he had the Billboard top-selling album and song in downloads and streams from September 1–7.
The song did become synonymous with Key West despite seeming to reference a season spent in some beach town on the Caribbean coast of Mexico—witness the "lost verse" that Jimmy sometimes added in live shows: Old men in tank tops, Cruisin' the gift shops, Checkin' out chiquitas, down by the shore. And the brand-new tattoo of a Mexican cutie that appeared mysteriously out of the drunken mists of some tropical night. Buffet reported the song as referencing only an imaginary place, but inspired by life in Key West, the Miami beach scene, and a particularly bad beach day he had experienced shortly before penning the tune during a studio session.
Never fear though, Key West does a fine job of living up to the legend, and not least because it is the home of Buffet's first successful Margaritaville Store, opened in 1985 in the waterfront Land's End Village shopping center. The store was the forerunner of a branded restaurant chain that was followed by a series of themed hotel resort complexes, making Jimmy a business magnate and global brand.
But you can be confident that the island also and always delivers on the promise of numerous versions and varieties of delicious margaritas and many other tropical beverages. Jimmy certainly had that one right.
Honoring the Man and His Music
The days after Jimmy's passing saw an outpouring of accolades here on the island. Masses of tributes were left in front of Shrimp Boat Sound, Buffet's former recording studio located in an unmarked building down by the old shrimp docks. Notes, flowers, and memorabilia also appeared at the Margaritaville Café on Duval Street.
The Key West City Hall PA system offered a day-long concert of Jimmy's greatest hits on September 3rd. The large-scale sand sculpture shown in the photo above was created by Artist Marianne van den Broek in the front yard of the home of Buffet's long-time friend Joe Cleghorn, which sits on a block where Jimmy once lived and partied.
On Sunday, September 3, Key West locals and city leaders organized a Second Line Procession in honor of Jimmy Buffet. The Second Line originates in New Orleans African-American culture and takes the form of a "second line" of dancing, celebrating marchers that follows the "first line" brass band procession of a jazz funeral. Themed as "It's 5 O'Clock in Key West", Jimmy's Second Line featured thousands of fans and well-wishers moving down Duval Street with a stop to sing Margaritaville outside the restaurant of the same name.
Key Westers saw Jimmy off on his latest journey with a loving, music-filled celebration, many well-wishes of fair winds and following seas, and outpourings of gratitude for the gifts of his life and art.
Changing Seasons
Another Labor Day weekend show has come and gone here in Key West. With autumn closing in, Fantasy Fest from October 20–29 is the next big doing on the island calendar. Then the holiday season will rush in like the winter winds we do not really know down here in America's Caribbean Paradise.
If you are in town, or planning to come to town, be on the lookout for tickets to the Old Island Restoration Foundation Key West Home Tours. Tickets go on sale September 25, with the first tours scheduled for December 29–30, 2023, and dates to follow in January, February, and March, 2024. Touring an immaculately restored classic Key West home would be the perfect accompaniment to taking a look around for your own prospective Key West home.
If a Key West or Lower Keys property purchase or sale is in your future, be sure to give us a call or drop by to take advantage of the local real estate expertise and renowned customer service ethic that we have built our reputation on here at Bascom Grooms Real Estate.
Bascom Grooms Real Estate—1110 Truman Avenue, Key West Florida—(305) 295-7511—info@bascomgrooms.com