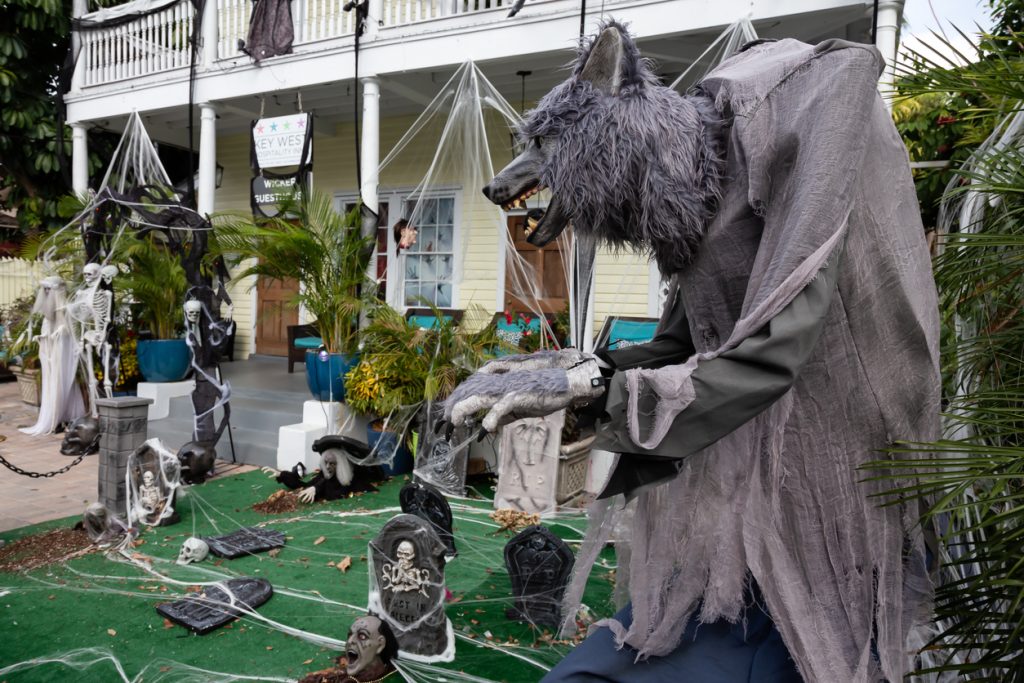 Halloween Fantasies in Key West
October 15, 2019
Experience the Key West Fantasy Fest!
Besides being one of America's most haunted cities, Key West is renowned as a free-spirited, party-loving town. Therefore, it should come as no surprise that Halloween on the island has been stretched into a ten-day celebration of a scale that easily rivals the New Orleans Mardi Gras. Sport, spectacle, fantasy, freaks, and families all come together to enjoy days filled with special events and themed parties during one of the busiest times of the year in Key West.
An incredibly varied collection of activities are bundled together in the warm-weather autumn bacchanalia known as the Key West Fantasy Fest. This venerable Halloween bash was launched in 1979 when Key West businessmen Tony Falcone and Bill Conkle were inspired to put together a big party that would liven up Key West during a normally quiet time of year.
The original masked Halloween parade event has now matured into ten days of balls, body painting, booze, charity fund raisers, costume competitions, and the crowning of a Conch King and Queen. And of course there are plenty of private parties held at local restaurants, bars, and resorts. Much of the action is definitely "R" rated, but there are also lots of family-friendly day-time events such as the Bahama Village Goombay Festival, a zombie bike ride, a 5K run/walk, a street fair, and various other happenings around Old Town. This year, the Fantasy Fest theme is In Tune But off Key, and the usual crowd of 70,000+ is expected.
Begin the Fun With the Goombay Festival
The 2019 festivities kick off on Friday, October 18th with the Goombay Festival, a Bahamian-themed street party located at Duval and Petronia Streets in Bahama Village. This is a neighborhood between Whitehead Street and Truman annex that is known for its Afro-Caribbean flair, great dining, interesting shopping, and fun walking tours. The Goombay Festival is an island-style street party featuring island arts and crafts, Caribbean Junkanoos music along with reggae and other Afro-tropical styles, great food, costumes, street processions, and all-around family fun.
Also on the first day of the Festival, the Royal Coronation Ball will be held at 6:00 p.m. in the Coffee Butler Amphitheater at the Truman Waterfront Park. The Ball features a two-hour stage show and buffet dinner culminating in the election of the Conch King and Queen of the Fantasy Fest.
Fantasy Fest Parade
Days and nights of costumed and un-costumed (read: nude) revelry come to a peak at 7:00 p.m. on Saturday, October 26 when the wild and wonderful Fantasy Fest Freaks gather by the thousands to prance and dance down Duval Street.
Mind-blowing, extravagant costumes, fantastic floats, amazing music ensembles, dazzling dance troupes, and marvelous marching bands are just a few highlights of the awesome Fantasy Fest Parade. Similar to the Mardi Gras, many costumed groups and creative float-builders compete for cash prizes and trophies to be awarded on November 22 at a reception and awards presentation at the San Carlos Institute.
Live the Fantasy
Catching the Key West Fantasy Fest is definitely a bucket-list item. Even by Key West standards, the party is really something that has to be seen to be believed. If you cannot make it this year, visit the official Fantasy Fest website to see the festival time blocks for the next six years beginning with October 16-25 for 2020, when the theme is Roaring 2020s and Future Fictions.
Of course, if have a home in Key West, you can live the island fantasy year-round. Contact the Bascom Grooms team at (305) 295-7511 to see how you can make that happen.