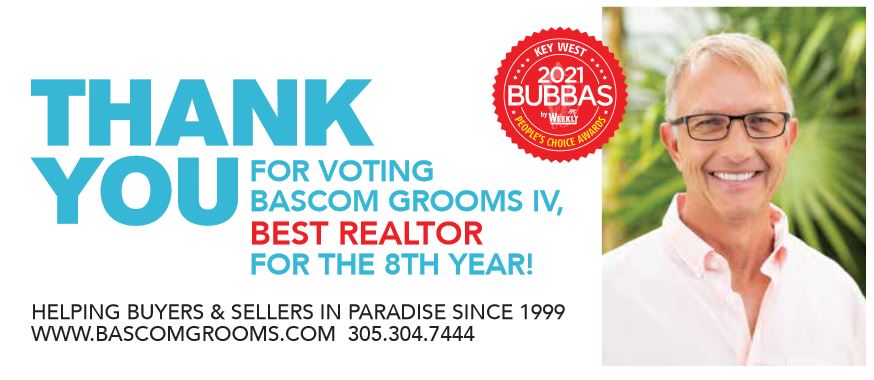 Bascom Grooms Voted Best Key West Realtor
August 15, 2021
Bascom Honored at The 2021 Key West People's Choice Awards
The Bubbas are live again, the people of Key West have spoken, and Bascom Grooms is their favorite Key West Realtor for the eighth year in a row. Bascom was grateful and pleased to accept top honors in a Key West People's Choice Awards category he has led since 2014.
After going to an online-only virtual format for 2020, the Eighth Annual Keys Weekly Key West People's Choice Awards charity event was back live on Saturday, July 24 when the 2021 Bubba Awards were presented at the Key West Theater. Over 24,000 ballots were cast for nominees in 85 categories, and many first-time winners were crowned.
A Key West Social Calendar Highlight
The Key West People's Choice "best of" poll competition and award show have been popular community events and highlights of the Key West entertainment calendar since 2014. Voters choose their local favorite from among numerous specific categories grouped under three general headings: Food & Drink, Businesses, and Our Community.
With the support of local sponsors and community members alike, the Bubbas are a premier Key West charity fund-raiser, generating over $100,000 for Key West nonprofit organizations over the past eight years. This year, the Bubbas supported Wesley House Family Services. The awards ceremony delivered generous contributions of laughter, cheers, and good-natured jeers as the announcement of winners mixed with skits and performances by amateurs and local celebrities alike.
Bringing the Community Together
The lockdowns and limitations of 2020 meant that the Bubbas had to go on last year without the traditional head-to-head competition and live awards show. Fortunately, the voting format was already completely online and over 11,000 ballots were cast, raising funds that were critically needed in a season when most other major local fund raisers were canceled. The event came roaring back for 2021 with a spirited live show.
Bascom Grooms and his company Bascom Grooms Real Estate are longtime proud supporters of the People's Choice Awards and a number of other community events and initiatives. The competition and voting for the Bubba winners are always an entertaining diversion and it's great to get together for a hilarious evening of boosterism for our local bars and restaurants, businesses, and nonprofit organizations. The funds raised make an important difference in a small island community.
About the Company
Bascom Grooms Real Estate is a boutique agency staffed by a team of professionals focused on providing exceptional personal attention to every client. A solid work ethic and superior customer service have established the firm as one of Key West's top-producing independent real estate offices. If you are interested in buying or selling Florida Keys real estate, tour the Bascom Grooms Real Estate website at www.bascomgrooms.com then connect with us at 305-676-0347/info@bascomgrooms.com