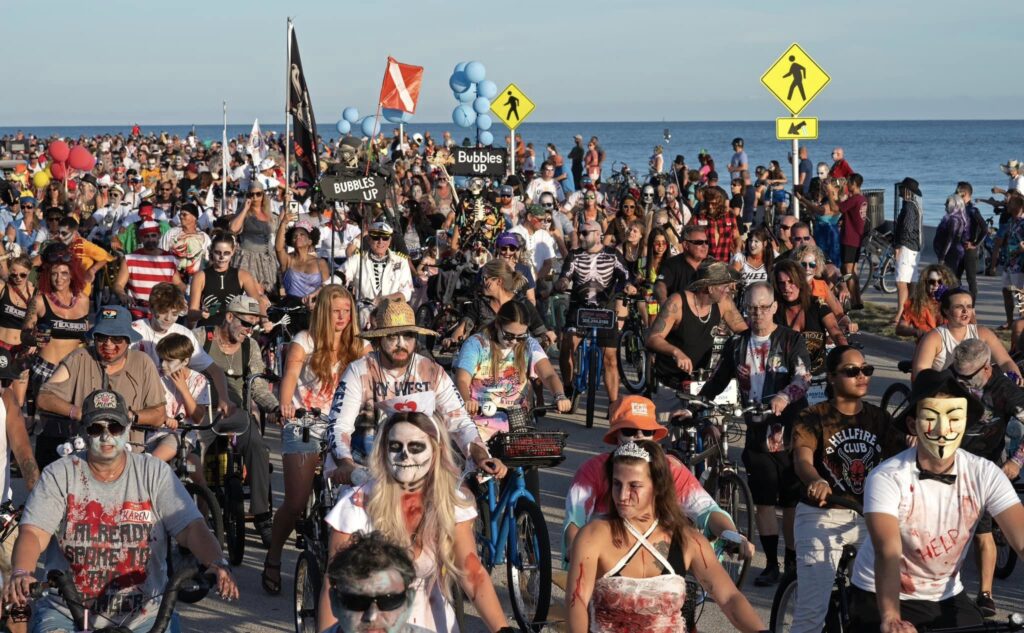 Another Southernmost Holiday Season
November 15, 2023
Balmy tropical breezes and uncrowded streets mark the entry of November, and with the departure of our bike-riding Halloween zombies, as the Fantasy Fest confetti is beginning to settle, Key West swings into holiday mode and the run-up to a Thanksgiving leap into a packed island holiday calendar.
Holiday Time in Key West
In a long-established custom, November blasted in on the roar of racing boats as the 42nd Annual Race World Offshore World Championship brought a full week of excitement to town. Kicking off on Sunday the 5th with a parade of the World's Fastest Boats down Duval Street and wrapping up on the evening of Sunday the 12th with the RWO Key West World Championship Awards Ceremony at Coffee Butler Amphitheater, the boat races are always a fast, loud, and fun way to usher in the holiday season.
It's good to have two thrilling events like Fantasy Fest and the powerboat races to mark a soft opening for the Key West holiday season. After all, we miss out on the first morning windshield frost scraping, the annual return of black ice roadways, tune-up time for the snow blower, and so many of those other northern holiday season openers. There are a few random falling leaves here, but that happens any time of year when your streets are overhung by lush tropical foliage.
So When Does the Holiday Party Start?
What marks the official start of the holidays down here in America's Caribbean Paradise? There's an argument to be made for the Lighting of the Bight at 6pm Wednesday November 22. That's when the 2023 Key West Harbor Walk of Lights comes to life with brilliantly illuminated tributes to Key West's maritime history. This 18th annual edition of course features a special tribute to our beloved Jimmy Buffett.
Other folks might say it all starts with the lighting of the city Christmas tree in Bayview Park at 6pm on November 27. Or maybe the evening of December 2 with our wonderful small-town-style Hometown Holiday Parade along Duval Street.
Of course, the sailors in the crowd will focus on the 32nd Annual Schooner Wharf Bar/Absolut Vodka Lighted Boat Parade, a great event that always draws big crowds to the Harbor Walk. It's set this year for December 9, with the fun starting at 6pm and the extravagantly-decorated vessels beginning their Yuletide voyage at 8pm.
A Tropical Thanksgiving
Even though the change of seasons in the tropics can get confusing, to our mind there is no question that the holidays are here when Thanksgiving dinner is served. As the multitude of holiday specials on offer at local dining establishments demonstrates, turkey with all the traditional sides is definitely a thing here in the Southernmost City.
But Thanksgiving in Key West combines classic elements of the holiday with warm weather, stunning sunsets, and a tropical flair that makes celebrating the holiday here a unique and unforgettable experience. And one of the distinctive aspects of our Key West Thanksgiving is the opportunity to enjoy a turkey feast with a twist.
Many Key West restaurants and hotels put their own spin on traditional Thanksgiving dishes, incorporating flavors and ingredients that reflect the island's cultural diversity. You can indulge in a dinner that includes roast turkey along with fresh seafood, exotic fruits, and Caribbean-inspired sides. From conch chowder to key lime pie, holiday offerings showcase the rich and diverse flavors that characterize Key West.
And our warm weather allows for unique outdoor dining experiences. While many folks on the mainland are bundling up in layers, Key West residents and visitors enjoy turkey al fresco, taking advantage of the mild temperatures and gentle ocean breezes. Some restaurants offer beach- or waterfront seating, serving a Thanksgiving meal complete with a stunning view of turquoise waters and swaying palms. The combination of delicious food and idyllic surroundings creates a truly special Thanksgiving experience.
Dreaming of a White Sand Christmas
As Thanksgiving Day draws to a close, Key West's famous sunset celebration at Mallory Square takes on a special significance. A free community Thanksgiving dinner featuring turkey and all the trimmings, offered by civic-minded organizations and open-hearted volunteers, always draws a crowd to the Square around 4pm.
Street performers, vendors, and musicians contribute to the festive atmosphere, making for a special Sunset Celebration that is a Thanksgiving tradition for many. Thankful locals and visitors come together to witness the breathtaking sunset over the Gulf of Mexico, creating a picture-perfect moment that encapsulates the community spirit, autumn beauty, and pure serenity of Key West.
Both pre- and post-feast, Key West offers plenty of opportunities to unwind and enjoy island life. The laid-back atmosphere Key West is known for provides the perfect backdrop for spending quality time with loved ones, whether it's strolling along the historic streets of Old Town or lounging by the pool at a luxurious resort. You can do an after-dinner football toss out on the sand, and look forward to a long holiday weekend exploring pristine beaches, snorkeling in crystal-clear waters, and taking leisurely boat rides.
Happy Holidays from Our Team
Our holiday greetings and best wishes for the season go out to friends old, new, and future across the Keys and beyond. We hope you are lucky enough to enjoy a bountiful Thanksgiving here in the Conch Republic this year. Or maybe next year you will be home for the holidays in Key West or the Lower Keys?
For a full-time home, retirement spot, second home, or investment property, it's great to have a place in the Florida Keys. The steady pace of residential closings in our part of paradise reflects the enduring attraction of this place along with the transition into our quieter fall season.
Key West and Lower Keys MLS Weekly Closings
10 listings sold Nov 6 – Nov 12
11 listings sold Oct 30 – Nov 5
8 listings sold Oct 23 – 29
11 listings sold Oct 16 – 22
7 listings sold Oct 9 – 15
8 listings sold Oct 2 – Oct 8
18 listings sold Sept 25 – Oct 1
13 listings sold Sept 18 – Sept 24
14 listings sold Sept 11 – Sept 17
14 listings sold Sept 4 – Sept 10
21 listings sold Aug 28 – Sept 3
If you decide to sample some winter holiday fun and sun here in Key West, and have your eye on the possibility of an island home, be sure to drop by and see us at Bascom Grooms Real Estate. With multi-generational native-born Conch Bascom Grooms at the helm, we know the local market better than anyone and would be happy to show you some of our most unique and exciting island homes.
Bascom Grooms Real Estate—1110 Truman Avenue, Key West Florida—(305) 295-7511—info@bascomgrooms.com