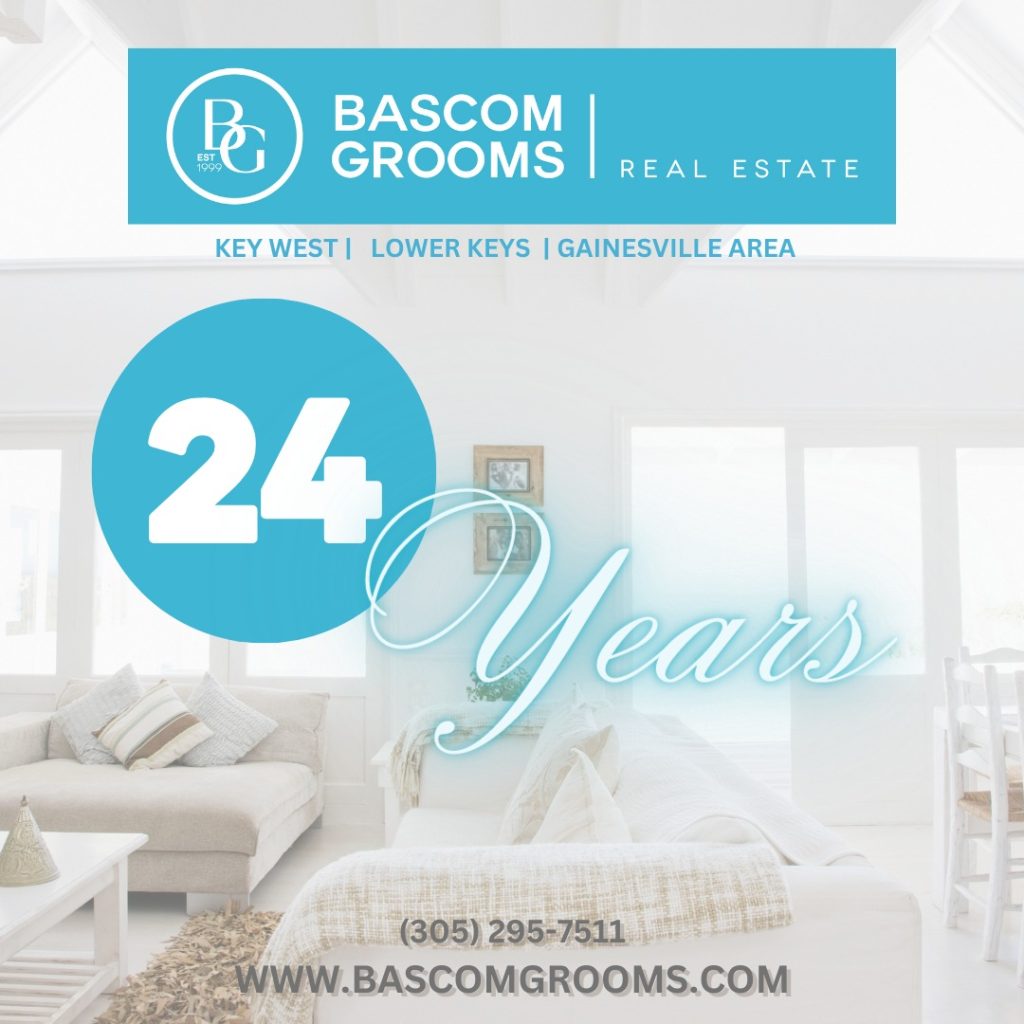 Anniversaries All Around!
April 15, 2023
No need for an excuse to raise a frosty glass in Key West, but this month marks 24 great years for Bascom Grooms Real Estate. Since the very beginning in 1999, we have enjoyed helping our island neighbors with their Key West real estate needs and being honored with your trust and support. Thank you!
Angels Over Key West
There is an even bigger anniversary celebration happening in town this month, and the morning of Thursday, April 13, Key West visitors and locals got a treat as the awesome Blue Angels F/A-18 Super Hornets rumbled up Duval Street flying low and slow in their classic six-plane delta formation.
The legendary U.S. Navy Flight Demonstration Squadron was on course for Boca Chica Field, Naval Air Station Key West to headline the Key West Southernmost Air Spectacular. This year, a special edition of the NAS airshow celebrates 200 years of proud U.S. Navy tradition in Key West along with the Monroe County Bicentennial.
Our island is a highlight stop on the Blue Angel's 77th airshow season schedule, and excited airshow fans from in- and out-of-town, military active duty and veterans, and kids of all ages who love airplanes are packing the airfield this weekend April 15 & 16 for what is sure to be one of the most popular events on the Monroe County Bicentennial celebration calendar.
Along with the Blue Angels, the F-35 Lightning II Demonstration Team and 5 other military aircraft performances including the classic 1945 P-51 Mustang Swamp Fox are joined by a roster of great civilian performers including the AeroShell Acrobatic Team, the insane Aftershock Jet Firetruck and more.
Over 30 civilian and military aircraft static displays plus food vendors and more are all on hand to welcome the crowds aboard Naval Air Station Key West. Parking and admission are free, with gates open at 10 a.m. and the show starting at 11 a.m. The Blue Angels fly at 2:30 p.m. both days. The first day of the show is already underway; if you want to head out for tomorrow, it's a good idea to leave early because traffic is bound to be heavy.
200 Years as a Navy Town
The U.S. Navy played an important role in the first 150 years of Key West history starting from the island's earliest days as a U.S. Territory.
After Florida became a United States possession via the treaty of cession with Spain in 1819, John W. Simonton of Mobile Alabama foresaw a prosperous future for Key West, and in January 1822, he purchased the island from Juan Pablo Salas of St. Augustine. Salas had received the island, then known as Cayo Hueso, in 1815 as a land grant from Don Juan de Estrada, the Spanish governor of Florida.
Simonton almost immediately began lobbying the U.S. government to establish a naval base on Key West as a means of spurring development and bringing law and order to what was at time still a remote and wild island. In February of 1822, Lieutenant Matthew Perry, commander of the U.S. Navy schooner Shark, was dispatched to Key West with orders to verify its strategic value and claim it for the United States. On March 25th 1822, Perry raised a pole and hoisted the U.S. flag, proclaiming sovereignty over the Florida Keys.
A year later, in April 1823, Captain David Porter arrived at Key West charged with leading the U.S. Navy West Indies Squadron in an anti-piracy campaign launched under the authorization of 5th President James Monroe. At the time, pirates were a serious problem for commerce in the Atlantic and Caribbean waters around the new territory of Florida—an estimated 3,000 acts of piracy occurred in the region during the 7 years leading up to 1822 when Commander Perry arrived in the Keys.
Captain Porter brought 16 vessels including steam ships, a "Mosquito Fleet" of shallow-draft schooners suitable for navigating the reef-filled waters of the Keys, sloops-of-war, barges, a transport ship, and a decoy merchant ship to lure pirates. He established the island's first naval base in the area now occupied by Mallory Square. Porter was eventually successful in securing the waters off Florida for commerce, and the city of Key West soon grew into the largest city in Florida, in no small part due to its strategic maritime location and excellent harbor.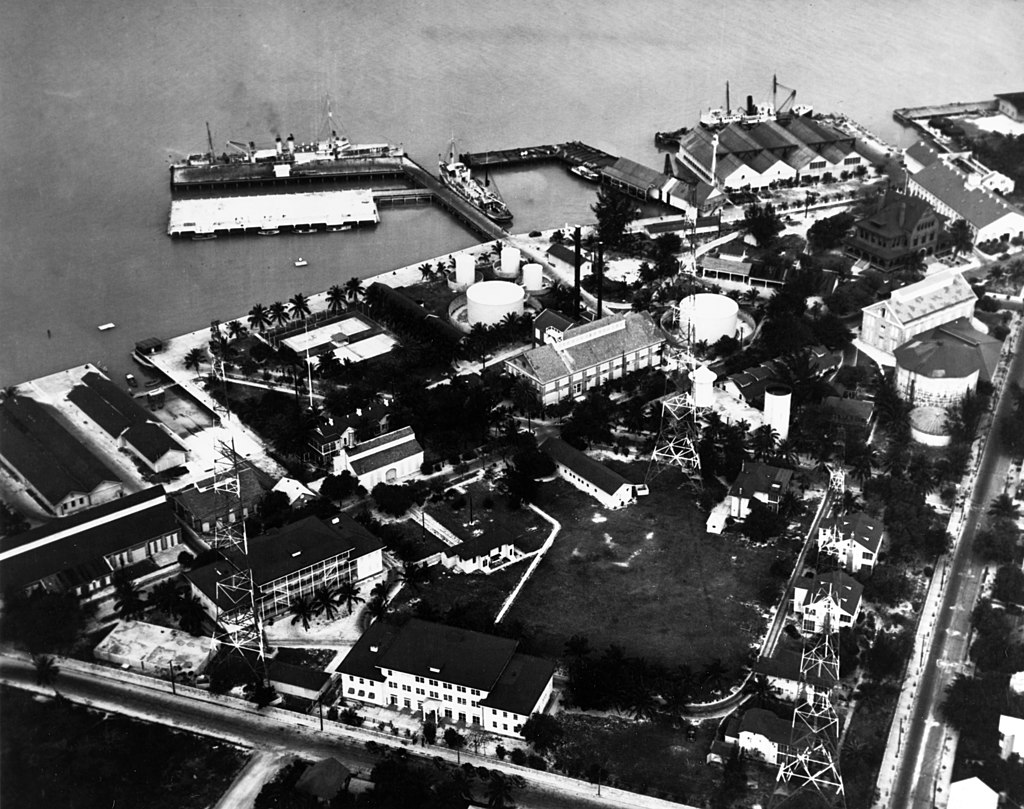 Naval Station Key West (Feb. 11, 1939)
The U.S. Navy went on to become a strong, if fluctuating, presence in Key West throughout the Spanish American War, the U.S. Civil War, the two World Wars and into the Cold War era. At various periods, the island has hosted a wide variety of surface ships and was also home to a submarine base from the earliest days of those vessels. Throughout the history of Key West, Navy and military operations in general have been important drivers of the local culture and economy.
Flying Out of Key West
As the age of naval aviation dawned, a coastal air patrol station was established in 1917 at what is now Trumbo Point on the Key West Bight. On September 22, 1917, a Curtiss N-9 seaplane captained by Coast Guard Lt. Stanley Parker became the first naval flight made from Key West. The air patrol station was commissioned as Naval Air Base Key West on December 18 of the same year. The base continued operations until the period after WWI, when the facilities were mostly dismantled and activity reduced to a skeleton crew operating a radio communications station.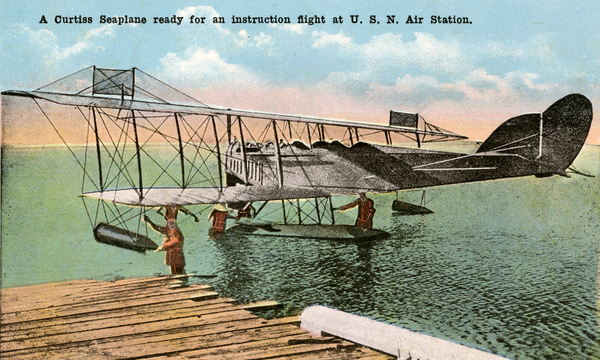 Curtiss Model H Seaplane (c. 1914)
With international tensions rising in the leadup to WWII, Navy seaplane counter-submarine operations resumed out of Key West, and the air base reopened in December, 1940. Meachum Field, now Key West International Airport, supported blimps that flew anti-submarine patrols. Boca Chica Field, a little-used county airport on Boca Chica Key, was turned over to the Army for use by fixed-wing aircraft.
After the war, the field was transferred to the Navy and used as a training facility, a radar base, and a home for several different fighter squadrons. Boca Chica played an important strategic role as a base for reconnaissance and operational flights during the 1962 Cuban Missile Crisis; in 1994, the field hosted activities related to operations in Haiti.
Naval Station Key West closed in 1974, the "Big Ship Navy" left town, and many of the base satellite properties were sold to developers. Fort Zachary Taylor was released to the State of Florida as a State Park and National Historic Site. Parts of Truman Annex, Trumbo Point housing and the old seaplane hangar facilities, and the whole of Fleming and Dredgers Keys remain under military control. Boca Chica Field was considered for closure, but the historically-proven strategic value of the location along with perfect year-round flying weather led to the airbase being retained.
After surviving a downgrade to Facility status that extended from October 2001 to April 2003, Boca Chica was restored to full status as a Naval Air Station. NAS Key West has evolved over the years into what is now a busy, state-of-the-art aerial combat training center for pilots and aircraft drawn from all branches of the U.S. military as well as trainee pilots from allied foreign air forces. The air station and its personnel and their families are important contributors to our island community.
Springtime in Paradise
With spring of this historic year on us, special events are blooming all over as we go from sweet and colorful island Easter festivities to Earth Day events including the Art Bike Parade and 25th annual Earth Day 5K, a fund-raiser for Key West marine environmental causes. Then look for the 41st Annual Conch Republic Days April 21–30, the Taste of Key West food festival, art show openings, lots of music including the 27th Annual Songwriters Festival, and many more fun times on tap.
Even though the busy winter season is past, things don't really slow down much here on the Southernmost Island, and as the Bascom Grooms Real Estate firm heads into its 24th year in the business, the Key West real estate market is hopping. Many beautiful properties are coming on the market including some real Conch classics in Old Town.
Check out our listings to see what's happening, and if you would like to know more, the pros at Bascom Grooms Real Estate are always standing by to answer questions and help with all your Key West and Lower Keys real estate needs.
Bascom Grooms Real Estate—1110 Truman Avenue, Key West Florida
(305) 295-7511 — info@bascomgrooms.com