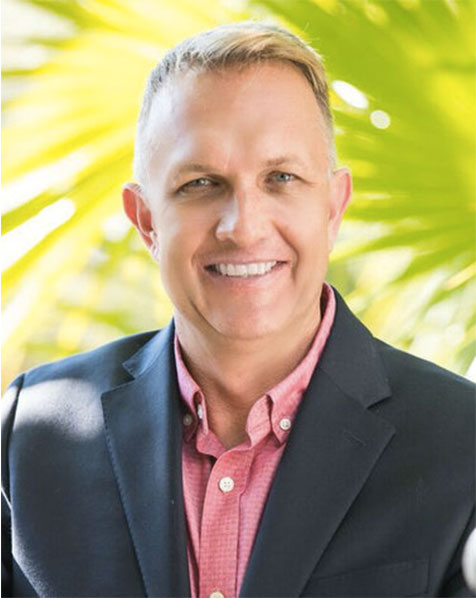 And the Bubba Goes to: Bascom Grooms
November 13, 2020
Bascom is the Local Choice for Best Key West Realtor
The people have spoken and Bascom Grooms has been voted as the best Key West realtor for the 7th consecutive year. Bascom was honored with the Best Realtor award at the 2020 Bubbas: Key West People's Choice Awards. This year's altered pandemic-aware competition format presented all previous award winners (2014-2019) in each category for online voting, then culminated in a virtual awards ceremony that for safety's sake replaced the traditional hilarity and hijinks of the annual face-to-face awards banquet.
Allowing the people to choose from among previous award winners was a decision the event organizers took as a way to avoid the usual head-to-head competition between community members. This strategy was implemented out of sensitivity to the struggles and hardships that so many Key West businesses and individuals have faced due to COVID-19 lock-downs and limitations.
Going this route allowed folks to enjoy the fun of voting for their island favorites while maintaining a focus on pulling together as neighbors and upholding the important role that the People's Choice Awards event plays in raising funds for local non-profit groups like the Community Wins Initiative. Under the modified voting format, Bascom's consistent performance in winning Best Realtor each year from 2014 to 2019 made him a shoo-in for the 2020 award.
A Local Favorite Since 2014
The Bubbas: Key West People's Choice Awards is an island standout event launched in 2014 by the Keys Weekly newspaper in partnership with Florida Keys Media and other local sponsors. The intent was to honor the diverse mix of great restaurants, businesses, and nonprofits in Key West while promoting healthy competition between and broad recognition of island businesses. And of course, promoting good times at an awards banquet cast in the comedic, irreverent mold of the annual White House Correspondents' Dinner.
It was a brilliant initiative that ended up becoming a very successful island-style combination of "best of" poll, annual charity event, and fun night out. Local celebrities, city officials, and an eclectic selection of Key West characters are featured, and anything from campy lip-synch contests to humorous roasts, outlandish skits, and more can and does happen at the banquet. Always great entertainment and one of the hottest invitation-only tickets in town, the banquet/party is one of the island's premier social get-togethers and fund raisers.
Six years of constant growth and perennially sold-out awards banquets have seen the Bubbas evolve far beyond a charity fundraiser and zany awards show. The event has become part of our island community. Organizers initially faced the prospect of canceling this year's edition. However, that was simply too great a disappointment to face on top of the loss of Fantasy Fest and so many of the other unique events that make Key West the special place it is.
Reaching Success Despite the Obstacles
Normally, a first round of voting to select and rank nominees is followed by a finals ballot that presents the 3 top favorites in each category. There are three general categories open for nominees: Business, Food & Drink, and Our Community. Each of these general categories will contain many specific items as nominated by the voters. For example, Food & Drink might include Best Burger, Best Happy Hour, Best Raw Bar, Best Rum Drink and so on.
Fortunately, in order to accommodate the massive participation drawn by this Key West favorite, in 2019 the format of the Bubbas was shifted to online-only voting. This year, the initial nominee round was omitted and voting for the favorites among previous award winners began on September 18 and ran for 6 weeks.
Despite all the trials and restrictions Key Westers have weathered, more than 11,000 ballots were cast. Donations were also strong, generating much-needed funds for local charities that suffered major losses due to the cancellation of Key West Fantasy Fest and its King and Queen campaign.
Bascom Grooms Realty: Embracing the Community
Bascom is deeply thankful for the friends and neighbors who once again voted him the best Key West realtor. He is honored to accept the 2020 Bubba Award and grateful for the ongoing support offered by the island community where his family has roots four generations deep.
Bascom Grooms Real Estate is a true Key West local business, a small, independent agency built by Bascom from the ground up and staffed by a team of professionals with a reputation for providing exceptional personal attention to every client.
If you are interested in buying, selling, or investing in Florida Keys real estate, you can count on Key West's favorite realtor. Tour the Bascom Grooms Real Estate website at www.bascomgrooms.com then contact us at 305-676-0347 / info@bascomgrooms.com to learn more about Key West real estate and America's Caribbean island paradise.